UK and Huawei: Geopolitics, Symbolism, and Competing National Interests
While Huawei provides cost-effective technology favorable to the UK, looming fears of potential Chinese espionage are changing its stance regarding Huawei leading to a total ban from its 5G infrastructure by 2027. However, although providing an international blow to Huawei, the ban remains limited in scope and highlights the underlying pressure from the United States and rebel Tory MPs to take a firm stance.
January 23, 2021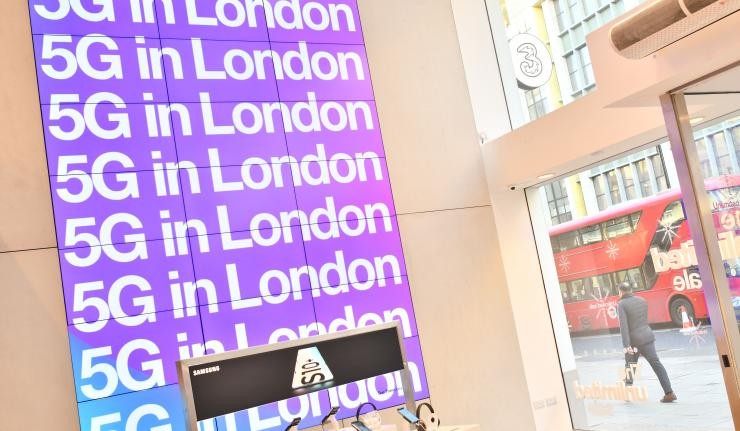 On July 14, 2020, the United Kingdom's Culture Secretary Oliver Dowden announced a ban on Huawei, demanding telecom service providers to completely eliminate the Chinese firm's 5G gears from the UK infrastructure by 2027. The move marked a turnaround from the Johnson administration's prior decision to restrict the Chinese firm. In January 2020, a threat evaluation by the National Cyber Security Centre (NCSC) established that the security peril from the firm was manageable. However, in May, the United States introduced an embargo against the firm, preventing any global suppliers from selling its technology to Huawei. As the embargo is expected to severely disrupt the firm's current supply chains, London is worried that alternate sourcing would increase the possibility of Chinese espionage.
Nevertheless, although the publicly stated reason remains national security concerns, U.S. pressure, as well as Prime Minister Boris Johnson's attempt to maintain the crucial support from the rebel Tory MPs, were the primary causes for the ban.
UK-Huawei Interactions: Restraints and Compulsions
In 2011, the Government Communications Headquarters of the UK appointed the Huawei Cyber Security Evaluation Centre (HCSEC) to assess the threat emanating from the Chinese firm. In 2018, HCSEC detected serious security lapses in Huawei's coding that could lead to external infiltration but did not find any backdoors in the system. Therefore, the HCSEC committee directed Huawei to fix its coding to address the potential vulnerability.
Later, friction emerged between the NCSC and Huawei when the Chinese firm failed to adhere to the directions. In the 2019 report, the HCSEC criticized Huawei for not taking the necessary measures to resolve the pending security problems as well as some newly identified flaws in coding. Nevertheless, it was during this time that the NCSC considered Huawei's security threat manageable under strict monitoring standards.
Since 2019, the United States was pushing the UK to outright ban Huawei on security grounds and threatened to discontinue intelligence sharing with the UK as part of the Five Eyes intelligence network. The Five Eyes is a joint intelligence alliance through which the United States, UK, Canada, Australia, and New Zealand automatically share information described as signals intelligence. Both New Zealand and Australia had already suspended Huawei by March 2019. Despite these decisions, the Johnson administration's choice to provide Huawei a 35 percent market share in the 5G sector provoked the United States and supposedly led to a confrontational call between Prime Minister Johnson and former President Trump.
When domestic and international pressure mounted, however, Johnson was compelled to introduce a total ban. Moreover, since the UK had been negotiating a trade deal with the United States as a crucial component of its post-Brexit strategy, Johnson was pressured to listen to U.S. demands. Domestically, the rebel Tory MPs–about 50 members out of the 650-member UK parliament–argued for a total ban, further pushing the prime minister to overturn his past decision.
At the other end, since Huawei is crucial for Beijing's new fourteenth Five-Year plan—which lays out its aspirations for domination of the global technology and innovation sector—the Johnson administration fears economic pushback from China in reprisal for the ban. China is a key trading partner as the UK's fourth largest source of imports and sixth-biggest export destination. Furthermore, since Chinese students are a significant income source for many UK universities, countermoves like restrictions on international students could hurt London. These economic factors heavily restrained the UK from taking firm actions against Beijing. For instance, following Beijing's enforcement of the repressive National Security Law in Hong Kong—a violation of the 1984 Sino-British Joint Declaration—the UK had political reasons to toughen its stance against China on controversial issues like Huawei. However, due to the risks of economic retaliation, the UK did not.
Huawei: Opportunities and Threats
Huawei, launched by Ren Zhengfei in 1987, has now emerged as a flagship Chinese tech firm, ranking 49th in the 2020 Fortune 500 list. Within three decades Huawei has become the world's largest telecom-equipment manufacturer with an ability to deliver reliable products at a relatively cheap rate. According to the 2020 Dell'Oro Market Report, Huawei received 28 percent of the telecom-equipment market's gross revenue in 2019 and recorded revenue growth despite the U.S. ban.
A combined study by GreyB Services and Amplified AI Inc published in 2020, found that Huawei is leading the global 5G patent race. Ericsson and Nokia, Huawei's main European rivals, lack the technological competency to challenge the Chinese firm. Thus, Huawei is the sole player capable of promptly providing a complete 5G suite for a reasonable price. For instance, the Johnson administration admits that the Huawei ban would delay the 5G roll-out by around three years and cost an additional $2.5 billion. As a result of the technical challenge and financial damage of replacing Huawei, many governments are constrained from banning it completely.
Nonetheless, Huawei's competitive edge is endangered by global security concerns regarding its leadership. Prior to founding Huawei, Zhengfei worked for the People's Liberation Army as the Director of the Information Academy. Though Ren Zhengfei argues that it was quite common to be associated with the Red Army at that time, governments that worry about China's expansionist ambitions view this with suspicion. Besides, as Zhengfei holds veto power in Huawei Technology's parent group—Huawei Investment and Holding Limited—despite owning just 1.4 percent of the shares, foreign governments' uncertainty regarding Huawei's ownership and independence remain strong.
Although there is no clear evidence of Huawei's involvement in Chinese espionage, several occurrences question its credibility. In 2018, the Australian published that Australia's intelligence is aware of Beijing's use of Huawei staff to obtain secret codes for infiltration into foreign networks. In the same year, the Czech Republic's National Cyber and Information Security Agency advised against ZTE and Huawei technologies, citing possible Chinese espionage using these firms' networks. In January 2019, the Polish Internal Security Agency charged a Huawei employee and a retired security officer for spying for China. Later in the year, the Washington Post published leaked documents proving that Huawei joined hands with a Chinese state-owned firm, Panda Information Technology International, to assist North Korea in developing their commercial wireless network. Most recently, in March 2020, Reuters shared that Huawei illegally supplied U.S. communication equipment to Iran.
Moreover, the Chinese authoritarian political system further heightens the concerns regarding Beijing's use of its firms for espionage. The 2014 Chinese Counter-Espionage Law obligates Chinese organizations and individuals to share data with governmental authorities when requested. Similarly, Article 7 of the 2017 National Intelligence Law requires that "any organization or citizen shall support, assist, and cooperate with the state intelligence work in accordance with the law, and shall protect national intelligence work secrets they are aware of." Nigel Inkster, the former director of operations and intelligence for the British Secret Intelligence Service, says that any Chinese firm could be requested to collaborate with the authorities, further amplifying the Huawei dilemma.
Nevertheless, a study from the Swedish Institute of International Affairs shows that though banning Huawei would mitigate Europe's geoeconomic threat emanating from dependency on China, it would not resolve its network security peril. The report suggests diversification of suppliers, network redundancies, and high standards of encryption as means to ensure security. Hence, banning Huawei does not eliminate the UK's network security threat from any potential Chinese espionage, suggesting the ban would not be a reasonable solution to the issue at hand.
Geopolitics Intertwined with Business
Geopolitical factors have both externally and internally influenced the UK's Huawei ban. The domestic political pressure on the Johnson administration to ban Huawei reflects Europe's rising geopolitical apprehensions regarding China's unpeaceful rise. The alleged Chinese mishandling of the coronavirus, aggression in the South China Sea, and border conflicts with India have intensified European concerns regarding Chinese expansionism. In the UK, the diplomatic strife regarding the new National Security Law and subsequent aggressive discourse have created a negative perception regarding China.
The Sino-American geopolitical tensions have also significantly influenced the ban. The U.S. national security campaign against Huawei is sequential to mounting fear that China would reverse U.S. hegemony. Protecting U.S. business interests is crucial in order to maintain American dominance. Huawei's prodigious growth and American policymakers' bitter realization that it doesn't have an alternative to Huawei's 5G technology, create concerns over whether U.S. technological predominance is being surrendered to China. Thus, U.S. national security rhetoric against Huawei showcases the need to protect U.S. firms from Huawei's fierce competition and to slow down China's rise.
Furthermore, Huawei is under global scrutiny for intellectual property theft. In October 2012, the U.S. Congress Intelligence Committee report accused Huawei and ZTE not only of possible Chinese espionage but also of trade malpractices and infringement of intellectual property rights. Western firms also argue that state support helps Chinese companies, including Huawei, to gain a competitive edge over their Western counterparts. U.S. firms with traditional dominance in the global telecom sector, such as Cisco, are lobbying the U.S. government for a hardened stance against Huawei, showing that U.S. firms have also been a large influence on the U.S. ban against Huawei.
On the other hand, companies that benefit from collaborating with Chinese firms have also been pressing the U.S. and UK governments to soften their positions against Huawei. However, the latest U.S. move blocks global vendors from supplying semiconductors that use U.S. technology at any stage of production to Huawei without a license from the Department of Commerce, which involves a high risk of substantial business loss to U.S. chipmakers. This move pushes other companies to develop supply chains independent of U.S. components. Additionally, similar retaliatory actions from Beijing against U.S. firms could cripple many flagship American companies that have developed deep ties with Chinese firms and whose significant revenue shares come from China. In the case of the UK, three leading British telecom service providers—BT, Three, and Vodafone—have close connections with Huawei, and have therefore been lobbying the Johnson administration to refrain from altogether banning the firm.
Nonetheless, even with the ban in place, its impact on the market is limited. The current regulation allows British operators to acquire Huawei devices until the end of December 2020 and does not require the complete removal of all service equipment until 2027. Moreover, companies like Samsung and Huawei are already working on 6G—which is not included in the ban—and plan to launch the technology by 2028.
Conclusion: Huawei's Future in the UK
In July 2020, The Guardian reported that the Johnson administration privately explained the geopolitical pressure behind the ban to the Huawei authorities. In November, Huawei's Vice President Victor Zhang commented that "the UK should revisit its decision to ban … Huawei from its 5G network in the post-Trump era," highlighting the role of U.S. pressure in the UK's decision.
While Beijing's economic benefits and Huawei's cost-effective technology are favorable, geopolitical fear regarding China's unpeaceful rise cast shadows over the expansion of Huawei technology. Given that Beijing has not yet taken any explicit countermeasures to the UK's ban, China likely does not want to worsen its ties with Europe. However, as the 2020 HCSEC annual report uncovered new security issues in Huawei devices, Huawei's return to the UK's 5G infrastructure will remain problematic. Yet, so far, as the current regulation is fairly symbolic and does not exclude Huawei from working on the UK's future 6G infrastructure, their future relationship is still up in the air.
---
Jelvin Jose is pursuing Integrated Masters in Political Science from the Central University of Pondicherry. He is currently a research intern at the National Institute of Advanced Studies (NIAS), India. He has previously published articles in the 9DASHLINE, Australian Institute of International Affairs, and NIICE, Nepal.