Standing Rock Protests and the Struggle for Tribal Sovereignty
In this special Feature taken from the upcoming Politics of Protest issue, the Journal speaks with David Archambault II, former tribal chairman of the Standing Rock Sioux Tribe, about his experience in the 2016 Dakota Access Pipeline protests and educating Indigenous youth.
October 12, 2020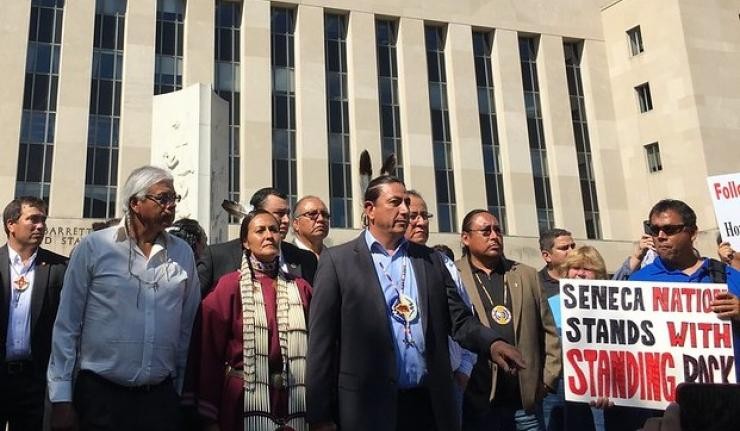 Journal of International Affairs (JIA): What was your involvement in the Dakota Access Pipeline protest, and what was your motivation for getting involved?
David Archambault II (DA): When I became chairman in 2013, there was a lot of concern about oil development in North Dakota. That concern dates back to 2007, when the tribal government passed a moratorium on pipelines passing through ancestral lands. In 2013, our tribal government passed a motion opposing the Keystone Access Pipeline because it passed through ancestral lands near the Black Hills, which are considered the origin of the Lakota people. So when I became the chairman in 2013, I made a trip to Washington, D.C. to see the president. I asked him for three things: to improve education within Indian Country, to consider visiting Standing Rock, and to oppose the Keystone Access Pipeline.
During the Dakota Access Pipeline protests, what really motivated us was our youth. Our youth started asking questions about this pipeline that was going to go under the Missouri River. So a group of them gathered and walked over the Missouri River on a bridge between Mobridge and Wakpala, South Dakota. That was their way of saying, "You really need to build awareness of this issue." The youth are the ones that really stepped up and asked us to protect their future, and we didn't want to look back and wonder, "Why didn't we do something?"
My role as the tribal chairman was to look out for the members of our tribe. In our tribe, we encourage our youth to speak out, and it's our role as adults to listen. Protest movements have activists and advocates. The activists contest a wrong and they ask the government to make it right. The advocates are within the government, and their job is to respond to their people. As the tribal chairman, I was an advocate and it was my job to listen to the voice of my people.
JIA: What was it about the Dakota Access Pipeline protests that made them resonate with so many people across the United States?
DA: Whenever there is inequality, it resonates with people. And if you can relate to that inequality and you see somebody speaking up about it, you have to get involved. I can't tell you why any protest attracts more support than another, I just know that each time is different; some get more attention than others, but that doesn't necessarily mean they're more important. Standing Rock came on the heels of the Keystone Pipeline protests, as well as several pipeline protests in Canada, and you could just feel that something was building. Eventually things got to a point where everyone said, "Enough is enough." That moment just happened to occur at Standing Rock.
JIA: What lessons did the Dakota Access Pipeline protests draw from earlier Indigenous rights movements, such as the American Indian Movement of the 1960s and 1970s?
DA: If there was no American Indian Movement, Standing Rock probably wouldn't have happened. Every protest movement is a catalyst for people to speak out against inequality. For example, the Civil Rights Movement was a catalyst for the American Indian Movement; that was us saying, "Hey, we're here too, and we're not going to tolerate mistreatment anymore."
Every protest is a response to a particular wrong. At Standing Rock, the wrongs were completely different than the wrongs people were protesting in the American Indian Movement and in the Civil Rights Movement. Today, we're seeing people protest a wrongful murder committed by law enforcement. So the objective here is totally different than the objective at Standing Rock. But what I mean when I say "catalyst" is that one protest gives people the courage to speak up against other wrongs.
JIA: What lessons do you draw from the Standing Rock protests that you think could inform future activists?
DA: Every protest is unpredictable. At Standing Rock there was no way to know what the outcome would be. But it again comes down to activists and advocates. Typically, activists and advocates don't get along. They're like oil and water—they don't mix. But there are some moments when advocates see eye to eye with activists. It may be only for a short time before they split apart again, but the moments when they're in agreement are the moments we often look back on as the moments of real change.
JIA: Was Standing Rock one of those unique moments?
DA: Exactly. At Standing Rock we had the tribal government standing alongside the activists. Advocates standing with activists to speak out against the use of force by the United States government. I see this also happening with the protests over the death of George Floyd. People in government are starting to say, "Something's not right." And I think that means this is an opportunity for progress.
JIA: To what extent were the Dakota Access Pipeline protests an expression of Native sovereignty and to what extent were they an expression of environmentalism? To what extent are those two intertwined?
DA: Standing Rock didn't have the resources to go to court against the federal government, but we had to contest the actions by the Army Corps of Engineers. So we explored a relationship with EarthJustice. We understood that they were an environmental group, so we had to make sure there was an understanding that we wouldn't compromise our tribal sovereignty, our treaty rights. And, with this understanding, we were able to work together. A lot of people think that environmentalists were responsible for the Standing Rock protests and legal action, but that's not true. It was first and foremost an expression of tribal sovereignty.
Indigenous people are the very first environmentalists. We understand that there's a connection between all the living beings - that's what true environmentalism is. And what tribal sovereignty means is that we do things ourselves. So if we see a government or a corporation that is not taking responsibility, we have to exercise our tribal sovereignty and protect the environment. But environmentalism and Native sovereignty are two different things. At Standing Rock, we were exercising our sovereignty to protect the environment.
JIA: You mentioned at the beginning of this interview that you made three requests of President Obama. If you were given a similar audience today, what would you ask?
DA: The education system in Indian Country needs to be addressed. It comes down to resources; of all groups, Indigenous peoples get the fewest resources from the federal government, and the federal government took the most from Indigenous people. We have to find ways to invest in our Indigenous youth, to empower them so that they can make hard decisions for our communities.
A lot of tribal nations are looking for a system that can revitalize their language and their culture within the youth. Nations must be allowed to educate their own and do it in a way that they believe is the best to nurture the spirits of their children. That brings such a sense of pride, but it's very difficult for tribal nations to take that initiative within the U.S. education system unless they have their own resources. And this is a system that has, over the past two centuries, served to destroy Native spirits instead of nurturing them.
JIA: Are you referring to the Carlisle School, and the Indian Residential School system?
DA: Yes, and the Carlisle School, the boarding schools, all that is ongoing today. After two centuries, the American government is still forcing Indigenous youth into an education system that doesn't work for them. We put more emphasis on money than we do on human beings, and it is failing our kids. And as long as we continue to fail with our kids, we're going to continue to have problems.
JIA: Is there anything else our readers should know about the Dakota Access Pipeline protests?
DA: The fight for Standing Rock isn't over. Just recently, [U.S. District Court] Judge James Boasberg ruled that the U.S. Army Corps of Engineers has to conduct a full environmental impact review. That was something we asked for when we first went to court. The judge had all the information back then, but he waited until the pipeline was done before he made the right ruling. But the concern I have today is whether or not they will stop the flow of oil to conduct the environmental impact statement. Will the tribe get to contribute equally to the environmental impact statement process? We have some technical experts who can weigh in on the ramifications a spill would have for our environment, our ancestral lands, and our people. Unless we get these questions resolved, it will be just another step in the process of them exploiting the land.
On July 6th, 2020 (after the initial interview was conducted), the U.S. Court of Appeals (USCOE) for the District of Columbia ruled that the Dakota Access Pipeline must stop pumping oil until an environmental impact review was completed. The Journal followed up with Mr. Archambault to get his response to the ruling.
DA: James Boasberg made the correct ruling and ordered the Dakota Access Pipeline to stop the flow and empty the pipeline while the USCOE conducts an Environmental Impact Statement (EIS). The Army Corps of Engineers is saying that the EIS will only take 12 to 13 months but normally an EIS process would take three to four years. There seems to be a rush again in the process. Again, my concern is that our Tribe will not be given the opportunity to fully participate and demonstrate the potential harm to our environment and our Nation. We have very qualified technical experts and scientists who never got any of their questions or concerns addressed over the past four years.
It is interesting to watch the politics come into play after this ruling. North Dakota Senators [John] Hoeven and [Kevin] Cramer came out with statements criticizing the judge's ruling, stating their concerns for the economic impact the ruling will have on the oil industry. In their statements about the ruling, not once did they mention the devastating economic impact that the COVID-19 pandemic has had on their oil industry, a far greater impact than the correct court ruling. President Trump also made a move to roll back EPA regulations for the purpose of expediting the permitting process. This should not impact our case but it is unfortunate that the current U.S. leadership puts money before human life.
Unci Makha (Grandmother Earth) is in need of time to heal herself. The pandemic is her way of telling us to slow down, stop developing detrimental industries in the interest of money. And when we do slow down, we slowly stop moving and gathering, we stop driving, and we start to notice simple things like the movement of plants and animals. The mountains that have been hiding behind smog begin to present themselves, and we start to notice the importance of life. Not only do we get the chance to see Unci Makha start healing herself but we get to witness the positive outcome of spending time with our families, our children. Unci Makha is giving us an opportunity to put life above money and some of our leaders in the highest places have too shallow of a mind to realize it.
---
This Feature will appear in the Journal's upcoming issue, Politics of Protest, coming October 28. Subscribe now to receive a copy upon release.
Image credit: Indianz.com, licensed under Creative Commons 2.0.