Russia and China have become critical allies to Latin America and the Caribbean during the pandemic. The United States should step up.
While the region of Latin America and the Caribbean (LAC) remains in troubled waters due to COVID-19, Russia and China have been throwing lifelines with their vaccine diplomacy schemes. The United States has remained on the sidelines, focused on vaccinating citizens at home and, consequently, underlining the severity of global health inequalities. Now, after reaching satisfactory domestic vaccination levels, the United States is pivoting towards helping raise inoculation rates in developing countries. But vaccine donations will not be enough, especially in Latin America and the Caribbean, where the pandemic has set economies back a decade. An opportunity to positively impact the trajectory of the region and strengthen U.S.-LAC ties can be tapped into by removing patent protection on COVID-19 vaccines, allowing for the exchange of ideas and technology, and investing in the region's domestic pharmaceutical capabilities. Doing so is critical to U.S. interests as it seeks to reclaim its position as a moral leader in a new era of great power competition.
July 23, 2021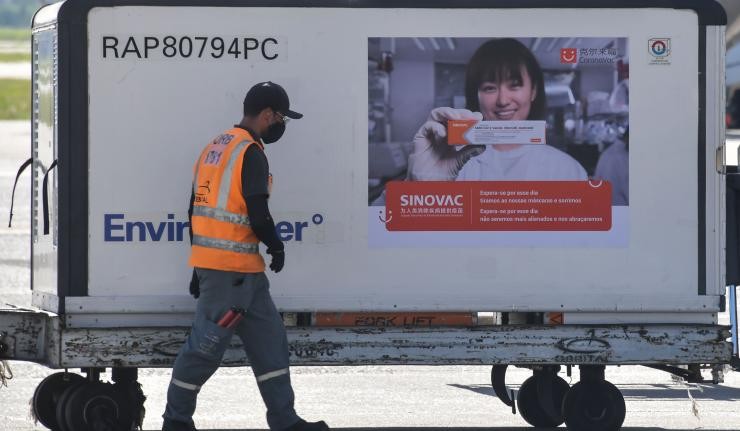 16 months since the first case of COVID-19 was detected in Latin America and the Caribbean (LAC), conditions in the region remain dire. The pandemic has deepened long-standing structural inequalities, exacerbated corruption, and fueled social tensions. While high-income countries are returning to normalcy, with vaccine hoarding dubbed a "moral failure" by the World Health Organization's Director-General Tedros Adhanom Ghebreyesus, stability and prosperity remain a distant prospect for Latin American and Caribbean countries.
China and Russia Exerting Influence
In the midst of a global pandemic with unprecedented socioeconomic implications, a unique opportunity to exert influence through vaccine diplomacy presented itself, with Russia and China quickly seizing it. China remains the main provider of vaccines to the region, and Russia has strengthened alliances with Argentina, Mexico, Bolivia, Venezuela, and others by also providing them millions of its Sputnik V vaccine doses. The speed of China and Russia's support to the region is also worth noting. Between February and June 2020 alone, China provided over $128 million in medical-related donations to 33 countries in LAC. Later, in July, it announced a $1 billion loan for vaccine access, strengthening economic cooperation and alliances with the region.
Despite widespread use in LAC, the lower efficacy of Chinese-made vaccines vis-à-vis Western vaccines has recently raised concerns. As of July 22, Chile and Uruguay led the region in doses administered per capita, with over 75 percent of doses administered coming from China. Nevertheless, in both countries, infection rates continue to rise. Compared to the Western Moderna and Pfizer-BioNTech vaccines, which have 94 and 95 percent effectiveness respectively, Chinese vaccines have reported mixed efficacy rates ranging from 50 to 70 percent. Sinovac reported 50.4 percent efficacy in Brazil and 67 percent in Chile. The widespread use of Chinese vaccines in LAC is attributed to the fact that these are cheaper and easier to store than Western vaccines. The lack of storage and distribution systems in place in LAC exemplifies how global health inequalities ensure less-developed countries to be hit the hardest by disease outbreaks.  
Regardless of their lower effectiveness, two Chinese-made vaccines were approved for use by the WHO (Sinopharm and CoronaVac). Most importantly, both Russia and China have allowed for their vaccines to be produced in the region by transferring technology and scientific collaboration.  Certainly, in the absence of major U.S. support during the pandemic, both Russia and China became the region's partners of choice, filling a vacuum left by the United States during its previous administration.  
As criticism over vaccine hoarding surrounded the United States and other Western countries, China and Russia improved their standing across developing countries, in and outside the LAC region. By providing critical assistance during the pandemic, China and Russia capitalized on an opportunity to expand their influence and alliances in the United States' backyard. Even Colombian President Ivan Duque, one of the most important U.S. allies in the region, thanked President Xi Jinping for Chinese assistance and expressed interest in expanding bilateral relations.
The United States and LAC
For its part, the Joe Biden administration has vowed to revitalize ties with allies, renew democracy, and lead with values. And it will likely seek to do so in its own hemisphere: President Biden brings a strong commitment to LAC, having visited the region as vice president more than any of his predecessors in U.S. history.
Now more than ever, it is in the best interest of the United States to revive its moral standing in the international community and restore its leadership in the world. Any efforts by U.S. adversaries to strengthen diplomatic and commercial ties in the Western hemisphere undermine the leadership position of the United States. As President Biden stated on February 4, "American leadership must meet this new moment of advancing authoritarianism, including the growing ambitions of China to rival the United States and the determination of Russia to damage and disrupt our democracy."
It is no surprise then that amidst a speedy vaccine rollout at home and criticism over insufficient assistance to countries in need, the Biden Administration has recently begun taking steps to counter Russia and China's vaccine diplomacy in LAC. Its vaccine donations, however, have yet to make a dent in the region's grueling fight against the virus. A revised, long-term strategy with a focus on investing in the region's pharmaceutical capabilities, as well as other hard-hit sectors, will be necessary to counter the influence of Russia and China and strengthen U.S. relations with LAC. In return, a LAC that is secure, prosperous, and democratic will provide the United States with stability and economic opportunities. To get there, in the short term, the United States should prioritize expanding vaccine access in the region, as the pandemic will not end until most of the world's population is vaccinated. In the long term, strengthening the region's pharmaceutical capabilities are vital to increasing resilience and prosperity. 
Current U.S. Vaccination Assistance Strategy
First, on March 18, 2021, for the first time since the start of the pandemic, the United States announced it would directly supply vaccines to other countries – sending 1.5 million doses to Canada and 2.5 million to Mexico. At that time, Mexico led the region in deaths per capita. Amidst desperate conditions, the U.S. vaccine donation would be enough to inoculate less than one percent of Mexico's population. 
Later in May, the Biden administration announced that it would share 80 million doses of its vaccine supply with other countries. However, only 14 million of those doses have thus far been allocated to LAC.  
To reach herd immunity, the Pan American Health Organization (PAHO) said approximately 500 million people in the region would need to be inoculated, but as of July 15, only fifteen percent of the region's population (659 million) had been fully vaccinated. An additional 14 million doses are welcome, but would certainly fail to move the needle.
In its biggest announcement yet, the United States said it would purchase and donate 500 million Pfizer-BioNTech vaccine doses to 92 low- and lower-middle-income countries and the African Union over the next 12 months. Only ten countries (out of 42 countries and dependencies) in LAC are eligible to receive these doses: Bolivia, Dominica, El Salvador, Grenada, Guyana, Haiti, Honduras, Nicaragua, St. Lucia, and St. Vincent and the Grenadines. In addition, only 200 million doses are expected to be delivered before the end of 2021, fueling months of additional socioeconomic backsliding in the developing world before countries are able to reach herd immunity. 
Most recently, the Biden administration pledged nearly 12 million additional vaccines to the region, including to countries such as Paraguay, Peru, and Colombia. However, the donations are clouded by estimations that 11 billion vaccine doses are needed worldwide to combat the virus–so far, only 3.7 billion doses have been administered. 
Certainly, more significant than its vaccine donations is the Biden administration's announcement that it would support removing intellectual property (IP) patent protections on COVID-19 vaccines, allowing more countries to manufacture their own vaccines at home. Currently, to access vaccines, developing countries by and large depend on bilateral deals with high-income and upper-middle-income countries as well as the COVAX mechanism, which has only provided 83 million of the 2 billion doses it aimed to distribute this year. Reliance on foreign pharmaceutical capabilities is nothing new, and it has led to developing countries not having access to medical supplies and COVID-19 vaccines with the same speed their rich counterparts have. As it turns out, countries in LAC have imported over 95 percent of all medical products related to COVID-19 response from outside the region. 
The pandemic has truly highlighted the consequences of unequal domestic pharmaceutical capabilities and the urgent need to direct more investment to developing countries' health sectors, including telemedicine and research and development, to avoid future health crises of this proportion.  As the country with the largest pharmaceutical market, the United States' stance on waiving IP  protections alone will not solve global health inequalities, but it is a step in the right direction. 
Technology Transfers and Local Production
Nonetheless, the patent waiver proposal is not expected to be finalized until December 3, 2021. More importantly, to be effective at allowing for the production of vaccines in developing countries, IP waivers must go hand in hand with technology transfers. While IP waivers would give countries permission to produce vaccines, countries still need access to the technologies to actually produce the vaccines. Unfortunately, large U.S. pharmaceutical companies remain strongly against offering technology transfer or sharing know-how.  
In the meantime, Chinese- and Russian-made vaccines continue to be produced in the region, thanks to agreements between various countries in LAC with China and Russia for technology transfers. 
China, for its part, has been providing the Butantan Institute in São Paulo with the raw materials to produce Sinovac's CoronaVac vaccine. As an inactivated vaccine, CoronaVac is cheap, easy to distribute, and relies on decades-old technology. In addition, Sinovac and Butantan announced a collaboration that includes "technology licensing, market authorization, and commercialization of CoronaVac." To date, more than 43 million doses of the Chinese vaccine CoronaVac have been produced in Brazil, and despite tensions between Presidents Jair Bolsonaro and Xi, CoronaVac remains the most prevalent used vaccine in the country. 
Argentina became the first country in LAC to approve the Sputnik V vaccine on December 23, 2020, with President Alberto Fernández later receiving the vaccine himself. In February 2021, Argentina signed an agreement with the Russian Direct Investment Fund (RDIF) to facilitate technology transfers and the production of Sputnik V in its territory. Argentina began producing the Sputnik V vaccine in June 2021, with its Richmond laboratory having the capacity to produce up to half a million doses per week. Moscow has been sending the vaccine's active ingredient to Buenos Aires, providing technology transfers and scientific collaboration to allow Argentina to manufacture the vaccine at home. President Fernandez has publicly thanked his Russian counterpart Vladimir Putin on several occasions for the pharmaceutical collaboration and technology transfer. If the United States cares about Russian influence close to home, the deepening ties between these two countries during the pandemic cannot be overstated.     
On July 5, 2021, the RDIF announced the production of a test batch of Sputnik V vaccines was underway in the Mexican laboratory Laboratorios de Biológicos y Reactivos de México. Mexico is the second country in LAC to start local production of the vaccine.                         
U.S. Influence, Regional Security and Stability, and the Path Ahead.
The United States' influence in the region had already been diminishing pre-pandemic due to the previous administration's aggressive rhetoric and undermining of democratic institutions. Given strained US-LAC ties, it is no surprise that Russia and China have been able to position themselves as allies to the region during one of the deadliest pandemics in history.  This is problematic for the United States, since it is in its best interest that countries in the region perceive the United States – as opposed to Russia and China – as their allies.  In addition, regional stability and economic prosperity in LAC is important to contain migration flows and violence that could reach the United States. 
Moving forward, the Biden administration should continue to assist with widespread vaccine access in the region through both bilateral and multilateral tracks. But if it truly wants to positively impact the trajectory of LAC, a long-term strategy that invests in the region's structural inequalities is necessary. Investments should primarily be directed to health ecosystems and be aided by a better exchange of ideas and technology. The Biden administration can also direct investments to other hard-hit sectors, such as education and tourism, to assist the economic recovery of the region. 
Certainly, addressing the region's inequalities will be conducive to the entire hemisphere's prosperity, including that of the United States. Albeit long overdue, coming to the realization that LAC 's security and prosperity is critical to the stability of the United States is a necessary starting point. The virus knows no borders, and as long as infection rates are soaring in LAC, the health of millions of U.S. citizens remains at risk. The same can be said about the region's economic development, as supporting regional growth and prosperity will create new economic and financial opportunities, stability, and potentially spur innovation across the hemisphere.     
Expanding vaccine access remains a critical starting point to address the current impact of the pandemic in LAC, but only investing in the region's domestic pharmaceutical capabilities will begin to close gaps in global health inequalities and increase countries' resilience to future crises.
---
Cristina Guevara is Assistant Director of the Atlantic Council's Adrienne Arsht Latin America Center, and co-author of the Center's report,  "COVID-19 Recovery in Latin America and the Caribbean: A Partnership Strategy for the Biden Administration," written with insight from 21 advisers who represent 12 countries across the Americas.