Risking Democracy in Afghanistan: Voting, Violence, and the Struggle for Parliament
Robert D. Crews analyzes the impact that a growing young urban population and civil society will have on Afghanistan's upcoming parliamentary elections. In a country rife with political instability, these new actors may have the power to shape the future.
October 19, 2018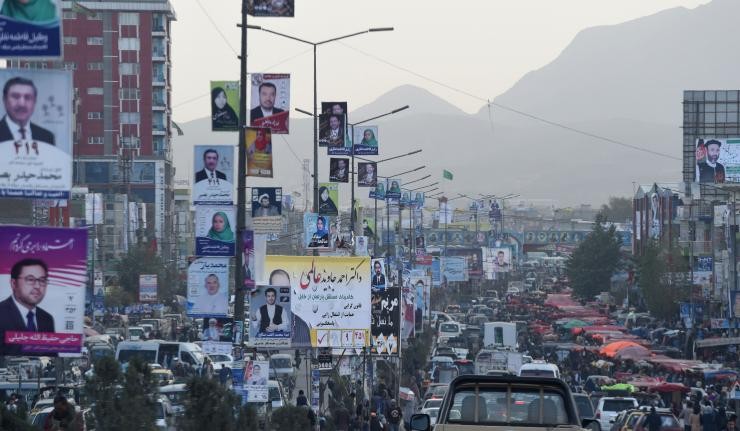 Nearly 9 million Afghans are registered to vote on Saturday, 20 October 2018, to elect a new Afghan parliament. At over 7,000 voting stations, they are expected to brave threats from the Taliban and the Islamic State — as well as navigate a much-contested electoral system — to choose from among more than 2,500 candidates competing for 250 seats in the 'House of the People' (Wolesi Jirga), the lower house of the National Assembly. Despite widespread insecurity and doubts about the credibility of the process, the electoral campaign has generated remarkable excitement across much of Afghan society.
Aspiring parliamentarians have reportedly spent almost $500 million on their campaigns. They have temporarily transformed the urban landscape of Kabul and other cities into a vibrant sea of portraits emblazoned on billboards and posters that jostle one another for Afghan voters' attention. Even amid bombings, disenfranchisement, and fraud, voters stand poised to shape Afghan politics in a deeply divided society searching for an end to four decades of war.
A Third Chance for Representative Government?
Afghanistan's parliamentary tradition dates to the 1920s, but the upcoming vote marks only the country's third since 2001. Elections in 2005 and 2010 yielded a cacophonous and fragmented body whose commitment to representing the Afghan public was always in question. In Afghanistan's post-Taliban constitutional system, the parliament has very limited powers. In practice, it has proved incapable of doing much to check the strong presidencies of Hamid Karzai and Ashraf Ghani. Indeed, as a whole, the performance of Afghan MPs since 2005 has significantly discredited the institution in many Afghans' eyes.
Critics have pointed to a disproportionate representation of members with links to the armed groups that waged war against the Soviets and their Afghan allies, then against one another in the 1990s. Rumors of influence-peddling, association with drug and criminal networks, and, at times, shockingly low attendance, have not helped the parliament's reputation.
If this were not enough, lingering accusations of fraud during the 2014 presidential elections, and political jockeying among President Ghani, his rivals, civil society critics, and foreign donors prevented elections from taking place in 2015.
Even with a three-year delay, numerous challenges —and controversies — persist. Long-awaited elections for district councils have been cancelled. Violence has prevented some two-thirds of would-be voters in Faryab province and roughly half of would-be voters in Herat province from registering to vote on 20 October. In Herat, moreover, members of the Hazara and Sayyed communities worry that they have been singled out for disenfranchisement. In Ghazni, the Afghan Independent Election Commission opted to postpone the election there after failing to resolve disputes about the ethnic makeup of electoral constituencies.
Meanwhile, the Taliban have repeatedly condemned the elections as "a foreign plot to prolong occupation" by "the infidel invaders" and have called for a boycott. Militants have targeted election rallies in Nangarhar, Helmand, Takhar, and elsewhere, killing 154 people. At least ten candidates have been assassinated.
"The provincial electoral landscape," writes S. Reza Kazemi of the Afghanistan Analysts Network, "is thus marked by a strange co-existence of hope and fear, of participation and its lack." 
Voter surveys have not produced any clear predictions about the outcome (whose final results are not due until 20 December). But even if the parliament's ultimate composition remains unpredictable, the electoral campaign provides a window into a number of striking changes that have swept across Afghan society since 2001.
A Youth Revolt?
Established political forces that have occupied prominent positions since the Jihad, including incumbent MPs, have a decided advantage in the elections, given their access to considerable resources, and in the case of pro-Ghani candidates, proximity to the state. However, a new generation of politicians appears poised to offer a serious challenge. In a country where 63% of the population is under the age of 25, young people are a rising political force.
Far more educated and often more secular than their parents, young urban Afghans have grown up in a political setting that has, since 2001, promised a liberal democratic order, even if the country has failed to deliver on that promise. To many university-educated young men and women running for parliament, calls for social justice, equality, respect for human rights, the rule of law, freedom of the press, and democracy are more than mere slogans. They have become political projects that many of this younger generation are determined to advance via social media and the ballot box. Most of them are untainted by the record of their elders, whether in the parliament, or on the Afghan political scene more generally. Many voters have expressed a preference for younger and more educated candidates who are new to parliament.
Civil Society
However, youth alone is not enough. Take the case of the sons of mujahidin leaders-turned-politicians like Mohammad Mohaqiq and Karim Khalili, whose constituencies are made up of Hazaras. Their campaigns have been the target of withering social media criticism from numerous younger Hazaras who reject these families' leadership as corrupt and outdated. Instead the younger generation seeks new leadership to secure this minority community's rights by demanding political inclusion and an end to discrimination and violence against Hazaras. 
Many of these young Hazara activists gained crucial experience in 2016, when they launched a series of protests, known as the "Enlightenment Movement," that challenged the exclusion of an historically Hazara region from an energy pipeline project. It ultimately became a wider campaign for civic equality and social justice. Similar activism has gained strength among other communities. In March 2018, following the bombing of a wrestling event in Helmand province, local protesters launched a campaign calling on the Taliban and the government to adopt a ceasefire and take up peace talks. Their protest evolved from a hunger strike to a "Helmand Peace March," a 37-day march to the capital and a national campaign that spread to sixteen provinces, attracting supporters among Pashtuns and non-Pashtuns alike.
These are but two examples of the civil society politics that present a dynamic alternative to the politics of the old guard and that may transform the business of the parliament. As MPs, such activists may succeed in pressuring the presidential palace to hear marginalized voices at a time of intense ethnic polarization, and when broad consensus will be necessary to make any peace settlement with the Taliban tenable across Afghanistan's diverse society.
Women may play an even more transformative role, although they make up only 34% of registered voters. Of 2565 candidates, 417 women are campaigning for a seat. The constitution guarantees 68 seats for women (27% of the total), but the outcome may exceed that total. These women do not form a monolithic voting bloc, of course, but their input on any talks with the Taliban will be essential.
Violence, vote-buying, clientelism, and fraud may mar Saturday's election. After seventeen years, the US- and NATO-backed Afghan state remains too weak to guarantee secure elections. Ethnic and other collective solidarities are likely to dictate many votes. Nonetheless, Afghan society has changed in dramatic ways over the last decade and a half, and this parliament will likely reflect many of these developments. For all of its flaws and shortcomings, the next Afghan parliament will face popular pressure to contest the power of the president and to broaden avenues for political participation and inclusion. Any peace agreement depends upon it.
---
Robert D. Crews is a Professor of History at Stanford University, who specializes in Afghanistan, Central and South Asia, Russia, Islam, and Global History. He is the author of Afghan Modern: The History of a Global Nation and For Prophet and Tsar: Islam and Empire in Russia and Central Asia.