Repetition = Resistance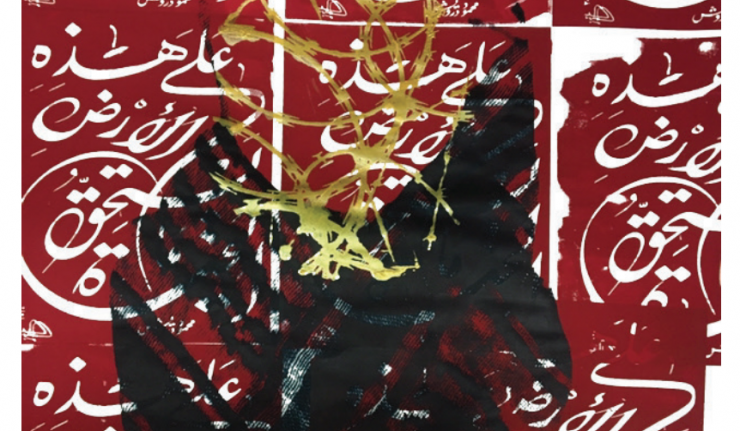 This series is titled "Repetition = Resistance" and was inspired by my first-ever visit to the Middle East, and specifically Palestine, under SIPA's PalTrek organization. I heard first hand diverse Palestinian narratives of struggle and resistance, but none were as remarkable as those of women. It was when I visited the home of Manal al-Tamimi, a Palestinian activist from the village of Nabi Saleh, that I was able to understand the true sacrifices of female activists and mothers like Manal. Despite threats to her life, she continuously ensured that the Palestinian youth of her community sustained pride in their identities as they resisted the overwhelming plight of occupation. Her unrelenting energy alone is true resistance.
This series of screen prints is inspired by the strength and sacrifices of Palestinian women such as Manal al-Tamimi. The images feature the keffiyeh scarf, a symbol of Palestinian resistance. I rendered an original photo of Manal al-Tamimi wearing this scarf and left out all facial details to beg the viewer to question true Palestinian identity. The anonymity of the image also lets the viewer see this as not only Manal al-Tamimi, but any woman exercising resistance. The Arabic calligraphy is a famous poem by the Palestinian poet Mahmoud Darwish, which reads, "On this land there's what's worth living." I found these words to be truly representative of the Palestinian resistance movement because the sustained Palestinian identity remains the greatest tool against continued oppression.
Additionally, I found barbed wire in nearly every corner in Palestine and Israel. To me, there is no other item aside from barbed wire more symbolic of true separation, intolerance, and discrimination. I chose to place a barbed wire image into the facial space to connect with the idea of a continuous struggle for identity amongst Palestinian women like Manal al-Tamimi.
Finally, I chose to display vibrant colors that depart from the traditional color of keffiyeh scarves in order to render the scarves' profound meaning in terms of modern and contemporary visual appeals. The objective of this piece is to inspire as many as possible–including those who know close to nothing about the Palestinian struggle (as I did before the PalTrek trip) and those who continue the resistance relentlessly.
---
Saumya Deva, the daughter of immigrants from India, was born and raised in Los Angeles, California, where she became heavily influenced by her blended Indian-American identity and LA art. Saumya began painting at an early age and found her artistic voice after discovering her Indian roots. She completed her undergraduate degree in International Affairs and Gender Studies as a Posse Scholar from the University of Wisconsin-Madison, where her art transformed into social justice activism. She became a Charles B. Rangel Fellow in 2016, granting her a master's degree in Public Administration from Columbia University and a career in the U.S. Foreign Service. This year, she starts her career as a U.S. diplomat. You can see more of Saumya's work at artbysaum.com.