Peeling Away Lebanon's Immunity to Revolution: A Review of "The Politics of Sectarianism in Postwar Lebanon"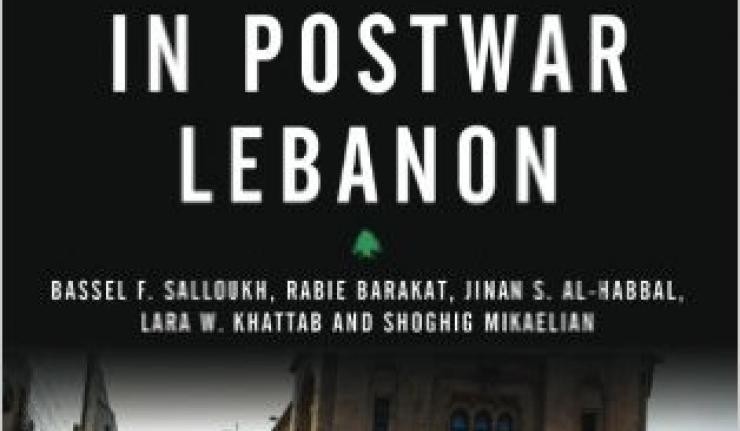 The Politics of Sectarianism in Postwar Lebanon, co-authored by Bassel F. Salloukh, Rabie Barakat, Jinan S. Al-Habbal, Lara W. Khattab, Shoghig Mikaelian and Aram Nerguizian, is a refreshingly comprehensive look into the factors that make up the sectarian stalemate in Lebanon, and that have made it impervious to the Arab Spring uprisings since 2010. Ever since the start of the revolutionary wave in the MENA region, governments have been challenged, and in some cases, toppled, from Tunisia and Libya to Egypt and Bahrain. The civil wars still raging in Syria and Yemen were sparked during this same period, and the Arab-Israeli conflict has flared up multiple times since. This book describes how Lebanon's sectarian political system, institutions, and social systems have so deeply ingrained confessional vertical cleavages that they have collectively made revolutionary change in the direction of democracy and stability almost impossible.
Recent protests in Lebanon over the government's inefficiency in trash collection simmered out with disappointingly little effect on the Lebanese government or its services, but they have reminded many of us of the fact that Lebanon has been without a president since 2014. However, even this has not thus far provoked any such revolutions as those seen in the rest of the MENA region. The authors of this book argue that this is due to the government's subversion of the people by keeping them and Lebanon's institutions interdependent and simultaneously divided along sectarian lines, in both the public and private spheres. In other words, national unity has been crippled by locally and internationally reinforced sectarianism, and has successfully prevented the Lebanese people from developing the type of solidarity and collective identity required for a united national movement.1
Lebanon has often been the site of instability: a bloody civil war from 1975 to 1990; Syrian and Israeli occupation; awfully managed Palestinian, and now Syrian, refugee influxes by the millions; the 2006 war; and other skirmishes between Hezbollah and Israel have all been politically and religiously charged, and the Lebanese people were never united on one front in any of these situations. The authors brilliantly deconstruct the military-civil relations of interdependency, and find that the habitual undermining of the army in this relationship leaves Lebanon particularly vulnerable in the face of the current rise of militant fundamentalism from Daesh (or ISIS) to the Syrian crisis, the latter of which has witnessed Hezbollah's increase in operations, and arguably strength, as a state within the state of Lebanon.2 With a history of internal discord and formidable new threats from the outside, Lebanon's security today faces an existential threat on two levels that could easily tear it apart at its sectarian seams. All of these factors could very well make this book the identification of the roadmap leading from Ghassan Salame's dubbing of Lebanon as a "weak" and "failing" state to an effectively failed state.3
The Politics of Sectarianism in Postwar Lebanon has an enlightening effect: it lays down the nature of Lebanese sectarianism systematically and empirically. It is presented as an explanation of the situation based on field work, statistics and demographics rather than a selection of certain arguments in order to make a policy recommendation, leaving the innovations and actions for change to those reading this book. It is an implicit call to action. After a troubled independence under French protectorate and an internationally exacerbated civil war, this book sums up the necessary steps—and hence the things to change —in order for Lebanon to be able to successfully undergo its own Arab Spring. Such a neat breakdown is highly timely as the nation's ticking time bomb is set in motion once more by ISIS recruitment, the "trash rebellion," and the failed "limbo-government." This is a highly recommendable book for Lebanon's next generations seeking change and successful continuation down the road of democracy, as well as for anyone who wishes to understand the complex dynamics of one of the most diverse and complex nations in the Middle East.
Endnotes
1 Bassel F. Salloukh, Rabie Barakat, Jinan S. Al-Habbal, Lara W. Khattab, Shoghig Mikaelian and Aram Nerguizian, The Politics of Sectarianism in Postwar Lebanon (London: Pluto Press, 2015), 32-51.
2 Ibid., 135.
3  Ghassan Salame, 'Strong' and 'Weak' States: A Qualified Return to the Muqaddimah (Routledge, 1987), 43-47.