One Step Forward, Two Steps Back: An Indigenous Perspective on Recent Efforts to Fight Climate Change
Danika Billie Littlechild is from the Ermineskin Cree Nation in Treaty 6 territory in Alberta. She is a lawyer whose practice focuses on the rights of Indigenous Peoples, Indigenous legal traditions, environment, water, health, and international law. From 2014-2018, she served as the Vice President of the Canadian Comission for UNESCO. The Journal of International Affairs spoke with Littlechild on the challenges Indigenous peoples face in these contexts. 
February 14, 2020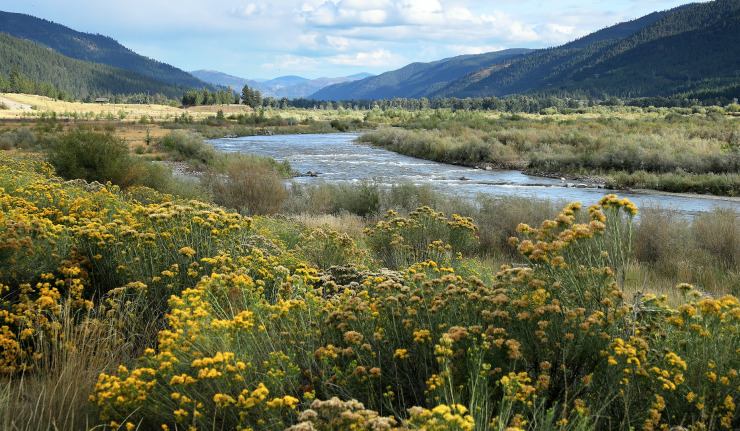 Journal of International Affairs (JIA): You were part of the Canadian Commission for UNESCO for over a decade. What positive or negative things did you notice during that time? 
Danika Littlechild (DL): When I began working all those years ago with the Canadian Commission, there was almost no diversity. By diversity I mean youth, women, Indigenous people, people of color, and people with different kinds of abilities. At that time in Canada, diversity was not apparent in national and international institutions. Even today, we are still trying to ensure diversity and create appropriate spaces for diversity to exist within our institutions. 
However, what was great at the Commission was that the professions represented were diverse. There were journalists, educators, archivists, scientists, and so on. Because of this, I believe people were naturally predisposed to embrace additional diversity within the organization. And over the years that I was involved with the Canadian Commission, more and more diversity was brought into the rooms we gathered in. Additionally, I was part of an early cohort of youth and people of color. As a result, we were able to ensure that the people who came after us had a safer space to enter into. It was more than having a seat at the table; it was that the table changed structure so people could be there in all of their difference. 
I think that is a testament to the leadership in the organization over all those years. Leadership has been supportive of bringing in new, important, and peripheralized voices while giving these voices the right platforms. For example, in 2017, we were given an amazing education by one of our trans youth members who attended our national gathering. He had to educate us about the challenges that he faced to attend our meeting. He talked about getting his translation device, because all of our meetings are bilingual, and being refused his device because his ID didn't appear to match. This prompted a change in how the organization operated, because from then on, for all national gatherings, we looked at our process and the companies we worked with. 
Our work on diversity and inclusion has put us at the forefront of the United Nations Educational, Scientific, and Cultural Organization (UNESCO). The United Nations (UN) itself has been fairly slow to the game in terms of integration of rights and perspectives of Indigenous peoples, partly because they have always taken the perspective that treating everybody equally brings everybody along. I do not think that is accurate at all. This is the age-old dialogue of equity versus equality— what's an equal opportunity versus an equitable opportunity? 
In general, the integration of Indigenous voices has been a bit slower than general diversification. I think for so long people thought that Indigenized perspectives could be slotted in with "diversity." I had to explain how the Indigenous experience is so unique and really quite different from diversity writ large. In Canada, we have a Multiculturalism Act and we would never, as Indigenous peoples, consider that piece of legislation applicable to us. Because our governing laws are related to Treaties, agreements, and other constructive arrangements with Canada, we have legislation targeted at us specifically, and it tends to be discriminatory. 
We had the Truth and Reconciliation Commission of Canada, which worked for a number of years to expose what had happened during the residential school era here in Canada. And in 2016, the federal government announced its unequivocal support for the UN Declaration on the Rights of Indigenous Peoples. This was a watershed moment for us in Canada, because Canada was the last of the Commonwealth Countries to endorse it. Governments, federal, provincial and territorial—have seized upon this reconciliation narrative. So, when I was Vice President of CCUNESCO we worked on figuring out how "reconciliation" ought to be supported, function, and operate within the context of the Canadian Commission. 
JIA: I want to shift gears and go more macro-level. How do governance, Indigenous legal systems, and environmental law all tie together? What role does the law play in protecting both Indigenous populations and the environment? 
DL: Internationally, it has been next to impossible for Indigenous peoples to break into the rooms where environmental rules are set. The UN Declaration on the Rights of Indigenous Peoples was the first UN instrument to ascribe collective rights vis-à-vis the environment. Canada was reluctant to accept the UN Declaration because it potentially creates new, if not strengthened, standards that nation-states have to meet. And in the international forum, it has been next to impossible to get our perspectives integrated. One example is the Minamata Convention on Mercury. All we managed to get was a paragraph in the preamble, which is not binding, and we didn't even get "Indigenous Peoples" with an 's' in the preamble because France and other countries blocked it from happening. What is the importance of "Indigenous peoples" with an 's'? The concept of 'peoples' encompasses the diversity of experiences of those whom we call 'Indigenous,' and it acknowledges that not all Indigenous communities have the same needs. Within the context of a UN agreement, this distinction is incredibly important. So when the multilateral environmental agreements (MEAs) refuse to recognize us as "peoples," it is incredibly strategic. It is about refusing to view these legal agreements through the lens through which we see ourselves, which has been confirmed by the United Nations Declaration on the Rights of Indigenous Peoples. 
At the Intergovernmental Committee meetings negotiating the text of the Minamata Convention, we had to fight to get two minutes on the floor of the plenary to represent more than 400 million Indigenous peoples worldwide. This has been the trend in the UN. We were not allowed to set foot in the UN until 1977—which is in my lifetime—and even since the UN Declaration, things have not changed a huge amount, as we are still being excluded. At the recent UN Climate Summit, Indigenous peoples from all over the world got two minutes to have a collective voice regarding climate on the floor of the plenary. 
Even though the UN resists the inclusion of Indigenous peoples, civil society and NGOs have begun to support us. This is a recent development. When I used to attend events related to MEAs, civil society representatives had a hard time understanding why Indigenous peoples were there. What does the exclusion of Indigenous peoples from civil society have to do with governance? It means that the governance of the environment is heavily structured to functionally exclude the voice of Indigenous peoples. And to the extent that Indigenous people are included, it is more often than not in a peripheral way, as opposed to a real Indigenous person sitting in the room. So, civil society may discuss Indigenous issues, but it may not know what Indigenous rights are because there is nobody present to be an advocate or representative. They are making decisions that are not informed by any Indigenous perspectives. That is a huge issue. 
Under the Trudeau regime, there has been a "one step forward, two steps back" scenario because of the approach Trudeau and his ministers have taken on the environment and climate. We have had one step forward in the sense that we have had a lot of rhetoric and some action from the government in support of reconciliation and the UN Declaration. One example of this was the Pathway to Canada Target One, which was Canada figuring out how to implement its legal obligations under the Convention on Biological Diversity Aichi Biodiversity Targets. 11.8 percent of Canada's land and freshwater is conserved as of spring 2019, and through this initiative Canada is seeking to conserve at least 17 percent by the end of 2020. I helped work on this, as a co-chair of the Indigenous Circle of Experts (ICE), which provided guidance in the form of a major report and recommendations in March of 2018. ICE traveled across the country and engaged with Indigenous peoples of various regions and came up with 28 recommendations, outlining how Indigenous peoples can lead with their own systems, and conserve, and protect their lands, waters, and territories according to their own laws, the UN Declaration, the outcomes of the TRC, and constitutionally protected rights and title. Our major contribution was around articulating a framework called Indigenous Protected and Conserved Areas (IPCAs). We also confronted the dark histories faced by Indigenous peoples vis-à-vis conserved areas and protected areas, including forcible removals, criminalization of Indigenous peoples' rights, and other related issues. Later, I heard that the federal bureaucracy was calling our report "aspirational," which basically means it is the ceiling, not the floor. If the federal government sees our report as "aspirational," it is really disheartening because it means they do not see our recommendations as a place to start; they see our recommendations as a place to finish, and that was not how we wrote it. That is how I feel about this whole reconciliation narrative; reconciliation is an aspect of a relationship, not a finish line. 
We have an educational system and a legal system that have been structured to totally exclude us as equal partners or as real people. When laws were first being written, especially around the environment, we were treated as an aspect of the ecosystem. We were not even considered actual human beings with rights. I would even argue that we were really not considered a part of the international human family until 2007, when the UN Declaration was passed at the General Assembly recognizing us as "peoples" vis-à-vis the UN Charter, human rights treaties, and other international law. Before then, we were categorized "issues," "groups," and "populations." It is hard to violate the human right of an "issue." I am hopeful that we can move into an era where we are treated as true partners, but I am dubious when I see responses from supposed progressive governments that see the true recommendations that emerge from Indigenous peoples as "aspirational." That is not good enough. 
We have an opportunity here to make a really big leap in terms of how we understand each other as partners in environmental governance, but as long as there are people in decision making seats who see us as subjects as opposed to real people with rights, we won't get anywhere. We have situations in Canada where there are communities that have never had access to clean water. We have places with mercury contamination that this government refuses to recognize or remedy. 
JIA: What role do you see climate change playing in Indigenous communities? 
DL: In some ways, we are an "inconvenience" to the government. We are in the way of development because we have constitutionally protected rights and title, and our own laws and ways of living. We are in the way of achieving great health numbers, because we're so unhealthy. We do not have access to our traditional foods or economy anymore, because entire ecosystems have disappeared with developments like the Chemical Valley in Ontario and other extractives development in many different parts of the country. This has altered and functionally destroyed many habitats and migratory patterns of animals, birds, and fish. We are also seeing significant toxic contamination of the environment, including mercury, selenium, arsenic, and other toxics that affect the health of Indigenous peoples. 
Indigenous peoples are left out of the climate dialogue, internationally and nationally. The Indigenous women who founded Indigenous Climate Action, the only Indigenous-led, climate-focused organization in Canada, did so because we had no voice anywhere. In the past, Indigenous peoples were an afterthought or a small paragraph in climate advocacy documents of Environmental NGOs and civil society. 
To give you an example of this marginalization, it used to be that if an Indigenous woman from an Indigenous women's organization in Canada went to the UNFCCC, she would go to the Indigenous caucus. The caucus would give the woman a paragraph dedicated to Indigenous women and children but tell the woman to go to the gender caucus, and the gender caucus would give one paragraph on Indigenous women and children and send her back to the Indigenous caucus. Indigenous women were in a strange advocacy limbo where neither gender groups nor Indigenous groups wanted them. I think that's representative of Indigenous people's experience in the climate crisis. We are an add-on, an afterthought, or a small paragraph. 
The biggest thing we have ever gotten is the "Local Communities and Indigenous Peoples Platform" that was established in the Paris Agreement. That is now one small functioning element where we finally got a foothold in a formalized mechanism in the context of the UNFCCC. 
In Canada, one of the other challenges we face is that most Indigenous communities are just trying to survive. There are high rates of mortality, a lack of clean drinking water, and a lack of healthcare. Do you think everybody is going to sit down and start talking about climate change when they can barely have a roof over their heads? 
In my own reservation there are 600 homes and 2,700 people who live in them. There have only been a few people like me who are interested in environmental law. Maybe I am able to do more because of my job, but for the most part this is not a conversation that happens everywhere. 
The federal government will say that they have climate programs for First Nations. They do, but the programs are completely oversubscribed. The First Nations do want to engage with these programs, but they have no capacity to do it. Additionally, the programs are designed by non-Indigenous people for Indigenous peoples. People who have no understanding of Indigenous experiences of climate change are designing programs to help us deal with climate change. It just makes no sense. 
And the Green New deal? Sure, I love the Green New Deal, but some iterations of the Green New Deal are premised on the exclusion of Indigenous peoples. I am interested in a Green New Deal that elevates Indigenous peoples and their rights. A lot of the conversations treat people as if they are a homogeneous whole and continue to reject all the diverse and unique Indigenous experiences, including Indigenous ties to land. There are some people working in the movement striving to recognize the importance of Indigenous perspectives. We are trying to do the work with allies and we are trying to work with governments in any place that they are willing, but the challenges remain.