Communal Violence, Social Media, and Elections in India
As the 2019 Indian general elections inch closer, Claire Teitelman takes a closer look at the role that social media and technology play in spreading information.
April 19, 2019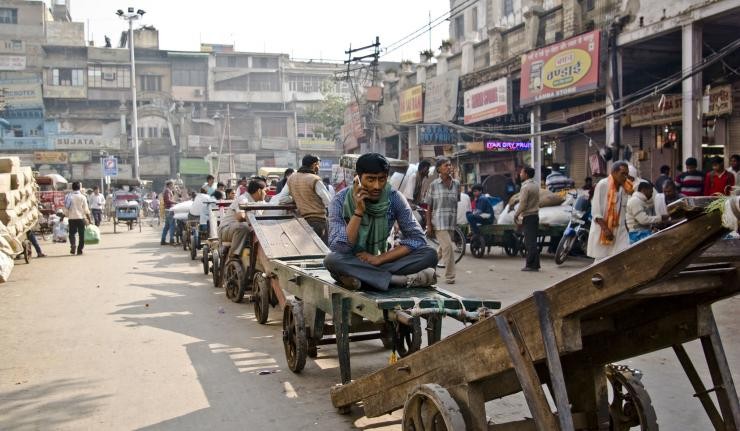 The Indian general election is in less than a month, and social media companies are worried. In India, disinformation can do more than change an election's outcome. "Fake news" kills. At least 25 people have died since June because of viral content traced back to social media platforms. Since Modi's election in 2015, platforms like WhatsApp and Twitter have played an increasing role in sparking communal violence, especially against Muslims and Dalits in northern India.
Two infamous incidents are the "Dadri Mob Lynching" in 2015 and the "Kathua Rape Case" in 2018. With an election around the corner, there is building pressure for social media companies to regulate their platforms. Here too, Modi's government has shown itself willing to manipulate social media in an attempt to clamp down on legitimate speech and dissent. Examining these cases gives insights into how the Bharatiya Janata Party (BJP) successfully uses and manipulates social media for their own gains.
Modi as a Social Media Candidate
The ruling BJP, led by Narendra Modi, has championed social media since 2014 when the party successfully utilized such platforms to win the election. In fact, Modi's 2014 election was met with an avalanche of think pieces and headlines like "Narendra Modi to be India's First Social Media Prime Minister" in the Financial Times. Derek Willis of The New York Times wrote, "PM Modi has managed – directly or indirectly – to make social media the main engagement platform. Almost all his cabinet colleagues and their ministries have active Twitter and Facebook profiles, which actively engage with followers."
Modi himself attributed some of his success to an ability to "talk to the people." He wrote in a blog post right before the 2014 vote, "This is the first election where social media has assumed an important role and the importance of this medium will only increase in the years to come. It became a direct means of information and gave us the much-needed local pulse." What Vinit Goenka, the national co-convener for the BJP's IT unit, said after the election still holds true, "Now we are going to use [social media] as a tool for listening. When we come out with a policy or we come out with a programme this is going to be an instant feedback for us."
Reality of Social Media and Hindutva
Before social media, television was the media of the masses. It's no coincidence that the evolution of the BJP and the popularity of television both occurred in the 1980s and 1990s. Television in India collapsed the diverse regional definitions and practices of Hinduism into the single unified version people gathered around to watch on TV shows. This new, universal vision of Hinduism sliced across region, caste, and class distinctions, allowing the BJP to expand beyond its traditional bases of regional, if not national, power.
By 2009, the advent of social media changed the context of politics once again, accelerating the developments initiated by television. Unlike a TV, which was not only expensive to own but generally produced content from an elite network, social media was free and based on content produced by the mass public. Without revenue-generating streams like member fees, social media companies have had to be more aggressive with advertising, which includes the development of targeted ads that meet "you exactly where you are, with your preferences and prejudices — at least as best as an algorithm can intuit them."
What those algorithms tell us about people's motivation is important. Anger and fear are most effective at driving "engagement." Guillaume Chaslot, an artificial intelligence (AI) researcher who helped develop YouTube's algorithmic recommendation system, says, "if the AI favors engagement, like on Facebook and YouTube, it will incentivize divisive content, because divisive content is very efficient to keep people online." The longer you retain people online, the more advertisements they see and the more opportunities you have to profit, which is what matters to social media-companies, like any commercial enterprise. The aim of social media algorithms is to keep people angry, engaged, and online. 
Facebook and Twitter were introduced to India in 2006. By 2017, India had the second-largest Facebook audience in the world with the largest number of mobile users at some 112 million. In 2018, India became the fastest-growing market for Twitter in terms of active uses and the market grew almost five times faster than the global average. WhatsApp, now owned by Facebook, was released in 2009 and is ranked India's favorite chat app with more than 200 million active monthly users. YouTube, founded in 2005, had about 180 million Indian mobile users by March 2018, seeing a spike of 70 million users over the past two years.
The combination of cheap access to smartphones and companies driven by engagement which is, in turn, motivated by users' fear and anger, has proven to be a volatile mix in India. According to Social Media Hoax Slayer founder Pankaj Jain, "Most of our population from the villages, or with access to cheap data but no formal education are users of WhatsApp." Pratik Sinha, founder of fact-checking website Alt News, agrees, saying, "There is a huge section of the population whose internet literacy is close to nil and who do not know what to believe. They are being fed with rumors."
Dadri and Kathua
The speed and ease with which social media spreads rumors has aggravated communal violence outbreaks since 2014, including the "Dadri Mob Lynching" in 2015 and the "Kathua Rape Case" in 2018. The initial incidents were not caused solely by social media. Historically, the region has experienced eruptions of communal violence every decade. However, social media use in the aftermath of both incidents has turned what would have been a regional conflict 50 years ago into a national, and arguably a worldwide, crisis.
In both the Dadri and Kathua incidents, protesters were riled-up by viral messages, photos, and videos on WhatsApp and other social media platforms. In Dadri, the police blamed the unrest on "a hate campaign [that] was launched at two levels: first 'Chinese whispers,' then rumour-mongering through WhatsApp and Twitter in local villages."
Many of the videos in these incidents revolved around alleged cow slaughter or cow meat storage and consumption by Muslims. Because the cow is sacred in Hinduism, the majority religion in India, the killing of cows is even outlawed in some Indian States like Uttar Pradesh (UP). It almost goes without saying that the killing of cattle is deeply offensive to many Hindus. In an interview with Scroll, the sister of one of the accused Dadri perpetrators claimed that she – and possibly her brother – had been inundated with messages and videos about cow slaughter on WhatsApp. "The videos are from Kashmir, from Muzzafarnagar, basically from Mohammedan areas, where cows are being killed. Dukh hota hai (It feels bad)."  A brother of another of the accused became interested in beef bans because of TV coverage. Then, the videos started showing up on his Facebook feed. He saw a post from Gau Seva Trust, an organization "launched by individuals who are helping ill cows," followed it, and started receiving regular updates.
According to The Los Angeles Times, an incident in Kathua that involved the kidnapping, rape, and murder of a young Muslim girl was distorted through social media. "Misinformation on right-wing social media channels contended that [the girl] hadn't been raped" and false claims flooded WhatsApp, including an autopsy report purporting to disprove rape as well as proof claiming the innocent had been framed. 
Throughout both episodes, Modi, a prolific tweeter and the second-most-followed world leader, remained largely silent. Eight days after the Dadri lynching and a barrage of attacks on his priorities, Modi said at an election rally, "The country has to stay united, only communal harmony and brotherhood will take the nation forward. People should ignore controversial statements made by politicians, as they are doing so for political gains."
He also told Anandabazar Patrika, a Bengali language daily newspaper, "Incidents like Dadri and the protest against the Pakistani singer [Ghulam Ali] are really sad but what is the Centre's role in them?" Far from condemning the lynching, Modi blamed "all sides" – Hindus and Muslims – for succumbing to communalism, when, in fact, Hindus had led the charge fueled by social media rumors. Blaming all sides allowed Modi to avoid calling out certain elements in society that help him win elections, and whose beliefs he may even agree with.
When Modi was forced to give a statement on Dadri, he did so at a campaign rally filled with his supporters and in the presence of a regional newspaper, limiting the reach of his already weak denunciation. Modi never mentioned Dadri on his Twitter account.
Modi, also stayed silent during the Kathua Rape Case. Only after intense public pressure, including a candlelight vigil headed by the opposition party as well as a tweet from Rahul Gandhi, did Modi tweet about justice being served on April 13. "It just didn't satisfy people that he really cared enough about what happened to this girl and the motivation," wrote The New York Times reporter Jeffrey Gettleman.
By the end of April, Modi finally took action, ostensibly to clamp down on the "fake news" that had caused so much chaos. The Ministry of Information and Broadcasting released a notice that read, "Journalists will have their official accreditations suspended as soon as any complaint is registered, even before it is judged whether it was valid." The announcement was met with such opposition from journalists that Modi was forced to rescind the notice in less than 24 hours.
Looking Forward
Unfortunately, incidents like these don't seem to be going away. With the 2019 general election around the corner, many expect communal violence outbreaks to become more frequent. Social media will most likely play a role in aggravating tensions. Hoax messages on WhatsApp led to more than a dozen lynchings across India last year. In a proactive move, WhatsApp has announced a series of counteractions it will deploy in an attempt to control the spread of misinformation leading up to the 2019 election. The service has even gone so far as to warn political parties that their accounts would be blocked if they tried to abuse the platform. "We saw how parties tried to reach people over WhatsApp, and in some cases that involved attempting to use WhatsApp in a way that it was not intended to be used," WhatsApp spokesperson Carl Woog told reporters in New Delhi, referring to a recent Indian state election.
Modi came to power trumpeting social media's reputation as a positive democratizing force. However, since 2014, it has gotten harder to argue that social media is primarily a tool to interact with and listen to the people. Instead, as illustrated by the Dadri and Kathua cases, social media has tended to accentuate the sectarian tensions and violence that already exist in India. It magnifies the problems of education, unemployment, the gender-ratio imbalance, and communal tensions by rapidly creating national crises out of local disturbances and bringing together groups that in normal circumstances would be insulated. 
Modi's BJP government is yet unchallenged in its use of social media in Indian politics. Both the Kathua and Dadri episodes, as horrific as they are, would have remained local events, but social media amplified and polarized them in ways that very starkly pit "Us" against "Them," even playing into the hands of a BJP-championed Hindutva. The paradox of social media is that it can cut across borders and create a national audience. But the real issue lies in that the audience is driven to act through a sense of outrage and conflict.
India is not alone in this transformation. Similar social media patterns can be found in democracies around the world. Such incidents tap into the unsavory and violence-prone elements of human societies. Social media does not bear the sole blame for tense politics, but they provide a platform for exposing the worst versions of ourselves. Now these easily manipulatable impulses are freer than ever and able to connect with others around the globe. The nature of the internet and social media is borderless and so too have been its effects.
---
Claire Teitelman is a Masters of Public Administration candidate at Columbia's School of International and Public Affairs. She concentrates in International Security Policy, specifically cyber security, and has a specialization in South Asia. Her research interests include the role of social media in international affairs and how changing technology will affect international stability.