China's Stakes in Venezuela are Too High to be Ignored
By turning a blind eye to Venezuela's economic and human rights disaster denounced by the UN Human Rights Council, China ignores the politically important anti-Maduro sentiment in the Latin America and Caribbean region. China's long-term strategy in the region—and its claims to be a responsible global power—can be harmed.
By
Igor Patrick and Lucas Wosgrau Padilha
February 14, 2021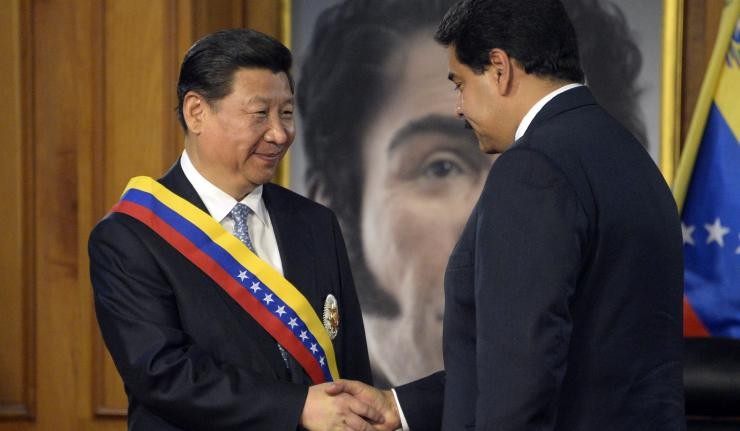 In the early hours of April 30, 2019, Juan Guaidó, the self-proclaimed president of Venezuela, appeared in front of the cameras surrounded by the military, calling on "brave men who defend the Constitution" to take to the streets. The message was clear: For the first time, he had the support of Nicolás Maduro's guarantors, the Armed Forces.
The video, recorded on a low-resolution cell phone camera, spread to the media in all neighboring countries in a matter of minutes. After more than a year of violent demonstrations, Guaidó, president of the National Assembly and internationally recognized as the de jure Venezuelan president, showed signs that he was about to finally end two decades of Chavism, a regime widely seen as responsible for disrupting one of the major oil-based economies in the world.
Nevertheless, the Venezuelan political crisis is far from over. The Report of the Independent International Fact-Finding Mission on the Bolivarian Republic of Venezuela, presented to the United Nations Human Rights Council (UNHRC) on September 25, 2020, reveals "systematic violations of human rights, crimes coordinated and committed according to State policies, with the knowledge or direct support of commanders and senior government officials" including "torture, arbitrary detentions, rapes, disappearances, and extrajudicial executions." The Mission was commissioned by the UNHRC after it received pressure from the international human rights community requesting the UN's involvement in Venezuela's ever-escalating humanitarian crisis. 
Additional investigation efforts are expected to continue after 84 organizations worldwide called on states at the UNHRC to renew and strengthen the mandate for another year. As a member of the UNHRC, China is likely to become more vulnerable to criticism for its lack of a clear stance in the Venezuelan crisis. On top of that, in October 2019, China even helped Venezuela attain a seat on the same UNHRC that is now formally investigating the Maduro regime. 
A Changing Relationship
Venezuela's current relationship with China was initiated by Hugo Chávez. In an attempt to distance himself from American tutelage over the region, Chávez linked his foreign policy to extensive oil production. Back then, Beijing had a strong case to consider its investments and trade with Venezuela business as usual. Venezuela owned the largest oil reserve in the world and China was the world's largest oil importer. The agreement between the two countries was a perfect match and Chinese companies were ready to cooperate and profit from their engagement. Chávez insisted on declaring himself Maoist whenever possible and did not deny that his main goal was to confront U.S. imperialism.
Although the relationship between both nations solidified after Chávez's rise to power in 1999, the populist leader only sustained a trend that had begun during the government of his predecessor, Luis Herrera Campins—the first Venezuelan president to visit China. After being elected, however, Chávez traveled to Beijing more than any other Latin American leader. As he identified with communist beliefs, this reinforced the widespread image in the region that China's business in Caracas was ideologically motivated. However, Beijing was quick to explain that Chinese trade "did not have an ideological purpose, and was not designed to confront third parties nor to affect Venezuela's relations with any other country."
By 2002, the two countries were already carrying out multiple initiatives through a strategic partnership, including a $100 million contract for the construction of a water supply system and multiple loans-for-oil deals. Due to investments of approximately $67 billion since 2007, China has become essential to the Venezuelan oil-based economy and one of its most important sources of foreign investment. 
By the time he took power, Maduro found an economy extremely dependent on a single global commodity with declining prices and fierce domestic opposition both from the left and the right. Inflation was growing uncontrollably, eroding the population's purchasing power and putting pressure on a government whose treasury was reaching an agonizing death. As Venezuela's economy struggled, Beijing transformed from a voracious buyer of oil into a creditor and political guarantor.  
China is too invested in Venezuela not to be entangled in the debate of its future. Venezuela ($67.2 billion), Brazil ($29.8 billion), Ecuador ($18.4 billion), and Argentina ($16.9 billion) account for 90 percent of the Chinese stock of capital in the Latin America and Caribbean region (LAC region). China has been pouring billions in loans into the LAC region. Recent figures estimate these loans at $ 140 billion, more than the World Bank, the Inter-American Development Bank, and the Corporacion Andina de Fomento Development Bank of Latin America have invested together. While China has seen its investments succeed in other Latin American countries, its investment in Venezuela has not paid off. After successive contractual breaches by Venezuela and the extension of grace periods for its debts to Chinese banks, China became the most important actor in the future of a country that has not shown any progress towards development—an important incentive for continued foreign direct investment inflows and bilateral commerce.
Venezuela's current oil production is about 1.5 million barrels per day, 2.3 times smaller than it was in the 1970s when it produced 3.8 million barrels per day. Manufacturing, agriculture, and exports have plunged so heavily that the country's output fell by a quarter in 2019. That is the worst contraction ever experienced by any country during peaceful times. Furthermore, recent U.S. sanctions on entities doing business with the State-owned oil company Petróleos de Venezuela, S.A., have led Chinese companies to stop direct purchases of Venezuelan oil. Therefore, in the absence of any clear economic interests, China's stakes in Venezuela are more political than ever, and the United States and the LAC region are aware of it.
Regional Implications of Chinese Support 
Taking advantage of this scenario, the former U.S. Secretary of State Michael Pompeo was quick to advertise a visit to the Venezuelan-Brazilian border in early September. On the third stop of his tour centered around ousting Maduro, Pompeo announced another $348 million to help Venezuelans seeking refuge in neighboring countries, including $30 million for Brazil. Aiding refugees in Brazil enhances sympathy from local Brazilians in the northern states that are highly affected by migrant inflows.
This strategy matters because northern Brazil is the region that receives a high volume of Chinese strategic investments, including $10 billion in railroads for the transportation of soybeans, $5.5 billion for the construction and operation of electric power transmission lines at the Belo Monte plant, and the arrival of various Chinese factories in the Manaus Free Trade Zone. It may only be a matter of time before the public in the Northern States associates the increasing flow of refugees with the subtle Chinese support for Maduro. The fact that Bolsonaro came to power using aggressive rhetoric against Chinese investments—and Venezuelan and Cuban socialism—can turn economically viable Chinese investments in strategic infrastructure into politically toxic and indefensible projects for the local electorate. In other words, although China has always attempted to avoid this, their economic relationships have become political.
Brazil is not the only country in which Venezuela has become a heated domestic debate. Established in 2017, the Lima Group—composed of 14 countries in the Americas—is committed to a peaceful solution to Venezuela's ongoing crisis. The Lima Group leaders, most of whom recognize Juan Guaidó as Venezuela's legitimate leader, demand a number of actions against the current regime, including the release of political prisoners, the end of human rights violations, and free, fair, and transparent elections. The group also functions as a regional platform, and recent criticism highlights the region's lack of trust in Venezuela under Maduro's rule. 
China's Long-Term Strategy Against its Relationship with Venezuela
As the most important economic partner of Venezuela, China has high stakes in the power play in South America. Ironically, by strictly following its principle of non-intervention in domestic affairs, China is supporting a government that is perceived by most Latin American nations as corrupt, cruel, and inefficient. The price to pay for its support to Maduro might be the loss of credibility, and even active opposition, in the LAC region—a fertile ground for China's global ambitions.
How Beijing behaves while managing the Venezuelan humanitarian crisis will not only influence Chinese businesses in a region historically tied to the United States but its overall strategy of becoming a dominant power of the 21st Century.
---
Igor Patrick is a Brazilian journalist specializing in China coverage. He holds a Bachelor's degree in Journalism from the Pontifical Catholic University of Minas Gerais (PUC Minas) and is currently pursuing a Master's degree in Politics and International Relations at the Yenching Academy of Peking University.
Lucas Wosgrau Padilha is a Brazilian Lawyer specialized in Economic Law and International Relations at Fundação Getúlio Vargas (FGV) in São Paulo. Currently, he is pursuing a Master's degree in Law and Society at the Yenching Academy of Peking University.