Are US-Pakistan Relations Improving?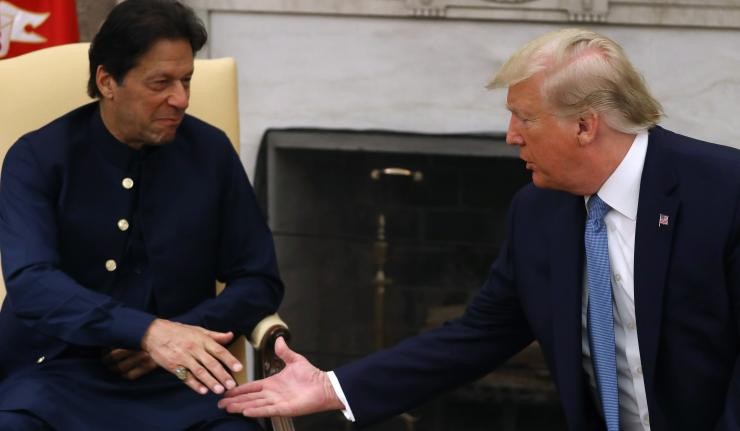 Since the Cold War, the United States and Pakistan have been strategic partners. Relations between the two countries exacerbated in January 2018, however, when Donald Trump tweeted that the U.S. "has foolishly given Pakistan 33 billion dollars in aid over the last 15 years, and [Pakistan] has given us nothing but lies and deceit."
In its early stages, the Trump administration took a hardline stance on Pakistan, pressuring Pakistan to crack down on terrorist groups within its borders that targeted U.S. troops in Afghanistan. The U.S. then suspended $1.3 billion in aid to the economically weaker Pakistan until it ended its relationship with different extremist groups. The Trump administration has also placed fresh restrictions on the movement of Pakistani diplomats in the U.S., and ended its military and education training program with Pakistan.
Last month , Pakistani Prime Minister Imran Khan met with U.S. President Donald Trump at the White House, but this time Trump pressed Khan to help extricate the U.S. from its war in Afghanistan.
The vital reason that Trump is changing his tune toward Pakistan, and ending the war in Afghanistan at present, is a shift in Washington's main policy objective in South Asia. The U.S. understands Pakistan to be a major actor in the region's peace and reconciliation process. It was one of only three countries to recognize the Taliban after they took power in Afghanistan in 1996 and ended diplomatic ties soon after the 9/11 Attacks in 2001. At the same time, Pakistan has enough leverage to nudge the Taliban to agree to a cease-fire and to negotiate with the Afghan government, thereby facilitating peace in Afghanistan.
The U.S. has lost some 2,200 soldiers over the past 18 years, and spends $45 billion per annum on the Afghan war. Currently, the U.S. needs Pakistan's help to withdraw forces from Afghanistan. At the negotiating table, the U.S. wants the Taliban to accept all the demands which the U.S. didn't compel them by 18 years of constant war. The U.S. demands the Taliban should stop fighting,  guarantee that Afghanistan will not be used as a base for militant attacks against the US.
A secondary reason is that the next U.S. presidential election is scheduled for November 3, 2020. A peaceful solution to the Afghan issue is a major priority for President Trump because he wants to walk into the 2020 election campaign with a big foreign policy win: claiming to have ended the longest war in American history.
Pakistan has an enormous role to play, not only to help extricate America but also to end a four decades-long war, in which millions of Afghans lost their lives. On the other hand, Pakistan is a nuclear-armed state with a powerful army, a weak civilian government, and a feeble economy. It needs to revamp relations with the U.S. in hopes of regaining investment, trade, and aid (that, incidentally, Trump cut). Similarly, Pakistan also wants to resolve its political issues in the South Asia region with America's cooperation.
Over the past 15 years, Pakistan has received approximately $15 billion in Coalition Support Funds, and around $4 billion in Foreign Military Financing funds, which was used to purchase American equipment. It almost got $1.4 billion in the Pakistan Counterinsurgency Capability Fund to construct a counterinsurgency capability, and approximately $52 million in International Military Education and Training funds.
If Pakistan makes headway in the peace efforts, the U.S.-Pakistan relationship will improve immensely. Consequently, the Trump administration will restore more than $2 billion worth of suspended aid and security assistance.  The trade and economic support to Pakistan would be an enormous advantage for a nation struggling with serious economic crisis.
Military-specific aid is a priority for Pakistan. Not only is Pakistan is fencing its 2,611 km border with Afghanistan to deter terrorists, American equipment is vital for the country's special operations to perform counterinsurgency.
Since June 2018, Pakistan has been in the Financial Action Task Force (FATF) grey list owing to "strategic deficiencies" in its anti-money laundering and terrorism financing regime. Pakistan needs American cooperation to keep it off the FATF as it suffers an annual loss of up to $10 billion because of the grey list.
Following Pakistan's independence, the Muslim-majority Kashmir is the country's biggest political issue. It has struggled over Kashmir for 72 years. India controls 45 percent of Kashmir while Pakistan controls around 35 percent. India and Pakistan, nuclear-armed rivals, fought three wars over Kashmir in 1947, 1965, and 1999. Now, Pakistan wants to resolve this issue with America's mediation.
During the Trump-Imran Joint Press Conference, Trump offered to mediate Pakistan and India's long-standing conflict over Kashmir. "If I can help, I would love to be a mediator," Trump said, "If I can do anything to help, let me know." Trump also said Indian Prime Minister Narendra Modi had asked him to meditate.
Meanwhile, Pakistan has a fear of India's mounting influence in Afghanistan, which it believes could pose a direct threat to its security interests. If Afghanistan comes under India's influence, Pakistan will have to face a two-front situation, with India on the eastern front and Afghanistan on the western front.
Before attempting to resolve the Afghan problem, Pakistan is first interested in garnering influence in a hastily fluctuating Afghanistan, and to diminish some of India's enormous influence. Undoubtedly, the U.S. can also play a paramount role in order to end the war.
Actions have already been initiated on both sides. In July, the U.S. officially designated Pakistan's separatist Balochistan Liberation Army (BLA) a terrorist group, while Pakistan has arrested Hafiz Saeed, the founder of the Lashkar-e-Taiba (LeT) armed group, for whom America placed a $10 million bounty because of his alleged role in the 2008 Mumbai Attacks.
This time, with the combined peace efforts of both the U.S. and Pakistan, it seems the forty year-long Afghan war's end is on the horizon.
---
Hizbullah Khan is a journalist and political analyst. He writes about South Asian political and security issues. His work has appeared in The Independent, The Diplomat, Dawn, Global Times and Asia Times.