Of Fighters and Flags: Combat Sports Grapple with the Russia-Ukraine Conflict
This Argument appears in Vol. 75, No. 2, "War in Ukraine: The World Responds" (Spring/Summer 2023).
By Chelsea Joliet and Carmen Melillo
Introduction
In late February 2022, the former Unified Heavyweight Boxing Champion and Olympic Gold Medalist from Ukraine posted a plea on his Instagram page: "I'm Wladimir Klitschko,[i] and I'm addressing the entire world to stop this war that Russia has started."[1]
That address was later included in a promotional video aimed at marketing the return of another famed Ukrainian boxer, Vasiliy Lomachenko. Lomachenko, a two-time Olympic gold medalist representing Ukraine, was set to defend his WBO inter-continental lightweight championship belt on October 29th of that year, following a nearly eight-month absence from competition. The match had originally been canceled at the onset of war, as Lomachenko opted to return home to Ukraine following the Russian invasion. In the promotional video, his explanation for returning is simple: "I have more responsibility for my family, for my country."[2]
The video, produced by his promoter Top Rank Boxing, was titled "Battle Lines: Lomachenko." The title is superimposed over a fluttering Ukrainian flag. The implication is clear: Lomachenko is a fighter for his country, in and out of the ring. He entered his October 29th title defense in Madison Square Garden against American contender Jamaine Ortiz. Despite the American venue and opposition, the crowd within the arena favored the Ukrainian, chanting "Loma" throughout the match. Lomachenko captured a unanimous decision victory and set up a future title unification bout with American champion Devin Haney. The winner will be the undisputed world champion, the pinnacle achievement in professional boxing.
The experience of 2022 could not have been more different for Artem Vakhitov, a professional kickboxer from Russia. Champion of the lightheavyweight division of the Netherlands-based GLORY Kickboxing organization, Vakhitov found himself stripped of his belt and out of a job shortly after the Russian invasion of Ukraine. Unable to compete in the largest organization in his sport, Vakhitov considered moving to Singapore to compete for a rival brand, or even to switch sports entirely and try his hand at Mixed Martial Arts. Eventually, Vakhitov gave up on competing internationally altogether, signing instead with an obscure Russian promotion called Muay Thai Factory.
Despite the obvious obstacles, Vakhitov's difficulties were perhaps alleviated by his previous success at the highest level of his sport. Many other Russian fighters across the combat sports world were not so lucky. GLORY terminated the contracts of all Russian fighters, citing "obstacles" in arranging bouts with Russian competitors as athletes withdrew from matches, refusing to fight them.[3]
The outbreak of war between Ukraine and Russia has clearly shifted the terrain of professional combat sports. Unlike most other international sports, combat sports offer a venue where professional athletes contract exclusively with privately-owned leagues and promotions but still fight in hyper-nationalistic contexts, representing flag and country. If the Olympics present a model of sports diplomacy, international combat sports present a model of private market competition in which nationalist sentiments, discourses, and symbolism are mobilized. Other international athletic competition outside of combat sports is generally done either via private club competitions, in which team affiliation supersedes nationalism, such as football's UEFA Champions League,[ii] or via state-sanctioned teams, as with FIFA's World Cup, in which competition is explicitly representative of state nationalism.[iii] Unlike these other forms of international athletic competition, combat sports retain ultra-nationalism in presenting and marketing individual fighters as part of a privately-owned product, blurring the distinctions between national competition and private entertainment. Additionally, combat sports lend more intuitively towards conflations between violent full-contact competition for prize money and war. For example, in 2022, retired U.S. Lt. General Mark Hertling explicitly compared the RussiaUkraine conflict to a "heavyweight boxing match," a "slugfest" in which a "knockout blow" was being sought.[4] Fighting for profit under a flag in the ring becomes akin to fighting for that flag on the battlefield, rendering both the "continuation of policy by other means."[5]
Since the outbreak of war, many Russian athletes have been banned from international competition or have faced promotional sanctions, in the form of belt stripping, contract voidance, and informal boycotts. Further complicating the picture, some organizations have created special allowances for Russian nationals to continue to compete, often with caveats, such as fighting under a different flag, as with boxer Artur Beterbiev. Meanwhile, Ukrainian athletes have been promoted by these private entities as nationalist heroes—fighting in the ring becomes a parallel to fighting on the battlefield. Are these bans, exceptions, and promotional policies a reflection of market forces (viewership won and lost), or is the disproportionate repudiation of Russian athletes a reflection of heightened moral signaling?
We begin by examining the literature on sport as foreign policy. We then work to situate combat sports within that paradigm in order to examine the shift from Cold War-era international diplomacy towards privatized market models of competition. This will allow us to consider the persistence of Nationalism in combat sports through this shifting paradigm and identify the role of Nationalism in driving policies such as athlete bans, boycotts, and sanctions. We next discuss the conflict between the market-based incentives of privatized international competition and Nationalism, as Nationalism appears to be driving policies that may act counter to market interests, especially regarding audience alignment and potential international market growth. Uniting these themes, we present a case study of Russian professional boxing champion Artur Beterbiev and the impact of the Russia-Ukraine conflict on his career. We conclude with the complicated new role of individual fighters as national symbols and the implications of this trend should it continue.
Sport as Foreign Policy
International sporting events are a subset of foreign policy, and more broadly a form of soft power. States attempt to achieve a more favorable image through attraction, rather than using military force or economic sanctions.[6] While traditional definitions focus on communication between state actors and foreign publics, more recently roles of private citizens and businesses have been noted transmitters of national image.[7] Within Olympic sporting events, geopolitics images through displays of nationalism, boycotts, and exclusions, as well as calls for diplomacy and peace.[8]
In the 1960s, states began to recognize that international sport, and specifically the Olympics, represented an opportunity not only for diplomacy, but also for economic advancement. As television broadcasts of the Games became more common, private sponsorships increased. 
Over time, international combat sports have shifted from state-affiliated Olympic-oriented competition to private sector leagues and promoters. These professional leagues are now worth billions in combined ticket sales, broadcasting rights for both television and radio, and corporate sponsorships. In at least one prior case, the International Boxing Club (IBC) in New York City was forcibly broken up by United States' antitrust law. IBC, the court argued, had created a monopoly on championship matches in three separate weight classes and therefore needed to be dissolved.[9]
During the Cold War, the Soviet Union and Eastern bloc nations continued sporting diplomacy through Olympic competition and athlete exchange, but athletes typically refrained from entering international professional leagues. While visiting countries from the Eastern bloc, Soviet athletes were seen as extensions of the state. In briefings prior to competition, athletes "were told that the states they would be visiting were young and less developed, with warm and fraternal relationships."[10] Upon arrival this was often proven false, as sporting events (including boxing and wrestling tournaments in the 1950s and 1960s Hungary, Poland, and Romania) were also used to express anti-Soviet sentiments.
Since the end of the Cold War, international sport competition has been in a state of paradigm shift. The shift to privatized organization in combat sports has moved a large number of athletes from the former Soviet bloc into market-based professionalized competition. Even as the core of competition in the West shifted away from state-funded Olympic teams to private professional leagues, the geopolitical messaging of nationalist competition has continued. In the early 2000s, fighters out of the former Soviet Union remained focused on Olympic amateur boxing, and thus by the Sydney Olympic Games in 2000, began to dominate. That year, The New York Times wrote, "They come from Kazakhstan, Azerbaijan, Uzbekistan, the Ukraine and Russia, burly, hard looking men who fight with a relentless, intractable boxing style."[11]
This messaging has continued through the transition into private professional careers for athletes coming out of the former Soviet Union. Retired professional heavyweight boxer Nikolai Valuev of Russia was promoted as "The Beast from the East" (a moniker he reportedly resented).[12] By the 2010s, more Eastern European boxers entered the professional ranks and gained Western exposure, leading boxing agent Kathy Duva, then-manager of Kazakh boxer Gennady Golovkin, to proclaim that "a wall had come down,"[13] In 2021, ShowTime commentator Paulie Malignaggi was fired after making comments regarding the ethnic and national origin of competitors like Lomachenko, stating "It's [the Eastern Europeans] that has become the dominant species in boxing."[14] Private entities have capitalized on the popularity of such messages, and in some cases seek to amplify the effect, as with the hypernationalism combat sports presently exhibit.
Nationalism in Combat Sports
Combat sports have traditionally prized nationalist discourse as a means of mobilizing fanbases and capturing market shares. For example, in April 2022, GLORY Kickboxing, which had terminated its contracts with Russian athletes that June, began promoting an event series called "Rivals," in which its contracted fighters travel to compete in promotional leagues outside of the Netherlands to face competition drawn from the host country, "hometown hero vs. away team" style.[15] This can be compared with Floyd Mayweather, Jr., an American and the world's highest-paid combat sports athlete, who used to regularly compete against Mexican or Mexican-American athletes on or around Cinco de Mayo, celebrated on May 5th, the national holiday of Mexican Independence. He even once boasted, "I turned Cinco de Mayo into Cinco de Mayweather."[16]
Historically, combat sports are also familiar with awakened nationalism in the face of armed conflict. In the United States, Muhammad Ali was stripped of his title belts and barred from competition for his objections to the Vietnam War and refusal to participate in the military draft.[iv] More recently, Masamori Tokuyama/Chang-soo Hong was barred from competition in South Korea and the United States due to his ties to North Korea; he was only able to join competition in either state after being granted South Korean citizenship in 2007.[17]
In terms of holding athletes accountable for government action, the reaction of the fighting world is mixed. After the outbreak of the Syrian Civil War, Syrian athletes were able to continue to compete internationally, as they were considered separate from the Assad regime and thus exempt from state sanctions. In the 2020 Olympic Games, held in Tokyo in 2021 after postponement during the COVID-19 pandemic, judo athletes from Sudan and Algeria refused to face Israeli judoka,[v] possibly under pressure from their national teams.[18]
In most of these examples of sports sanctions, boycotts, and bans, the primary actor is the state or the formal international regulatory organization. The current move to boycott or ban Russian athletes, while retaining a nationalist political character in appearing to take a pro-Ukrainian moral stance, is primarily being undertaken by privately-owned and -operated professional organizations or by independently-contracted athletes themselves. While it is generally accepted that private organizations and independently contracted athletes are incentivized by market forces to increase their share of profits or maximize their earning potential, the trend towards boycotting or banning Russian fighters does not appear to be a profit-maximizing move. In fact, anti-Russian athlete policies may even be detrimental to organizations that might otherwise wish to court a Russian fan base, or to fighters who wish to get a marketable win over an established name in their sport.
Audience Alignment
Privatized professional combat sports have been expanding rapidly over the past two decades. Many top organizations and promoters have previously aggressively sought to expand their popularity and market shares in the former Soviet Union and Eastern bloc countries. International audience expansion has been a major target for growth in professional boxing in particular.[19] Brian Kelly, the Chief Revenue Officer at Top Rank, a boxing promotional company, points to metrics showing that boxing has grown more than any sport from 2010 to 2020, attracting more than 26 million new American fans over that period. Recent growth has mostly been concentrated in Asia, including Russia.[20]
The U.S.-based Ultimate Fighting Championship (UFC), the world's largest mixed-martial arts promotion, has alone held more than 500 events in 28 countries. It has a broadcasting reach of over one billion households in 165 countries. Its largest fan bases in terms of viewers are in the USA, followed by Brazil, Russia, Australia, Mexico, China, and the UK. From 2014- 2016, the fastest growing market was Russia, partially due to the popularity of (now former) lightweight champion Khabib Nurmagomedov.[vi] The UFC made its promotional debut in Russia on September 15, 2018.[21]
Given these trends and incentives for international growth, it would seem counter to the business interests of promoters, fighters, and leagues to abandon Russian and Belarussian fan bases and markets, or to alienate audiences in states that have elected to remain unaligned. Instead, it seems that nationalist moral discourses have held sway over these private entities' decisions, pivoting them towards a pro-Ukrainian and anti-Russian narrative that disproportionately impacts their policies and athletes. World Boxing News recently speculated that the World Boxing Council's (WBC) morally-driven ban on Russian fighters will likely "backfire on the WBC regarding monetary fees and involvement in big fights."[22]
These policy decisions appear to be ideologically motivated by anti-Russian sentiment and a pro-Ukrainian moral stance. As such, private actors have taken on a pseudo-nationalist ideological role that has thrown the post-Cold War privatized paradigm into flux, in which private actors have now become beholden to the demands of both Ukrainian nationalism and a climate of anti-Russian sentiment. Unlike materially-affected markets, international combat sports currently represent an example of ideologically-driven private policies that act counter to their market incentives. For example, as shown in Figure 1, all four of professional boxing's governing bodies have made statements claiming they will not sanction any fights in Russia until the country's military action in Ukraine comes to an end. The WBC, IBF, and WBO have also insisted that they will not sanction[vii] any title fights involving Russian boxers for the time being.
Figure 1: War Response by Professional Boxing's Governing Bodies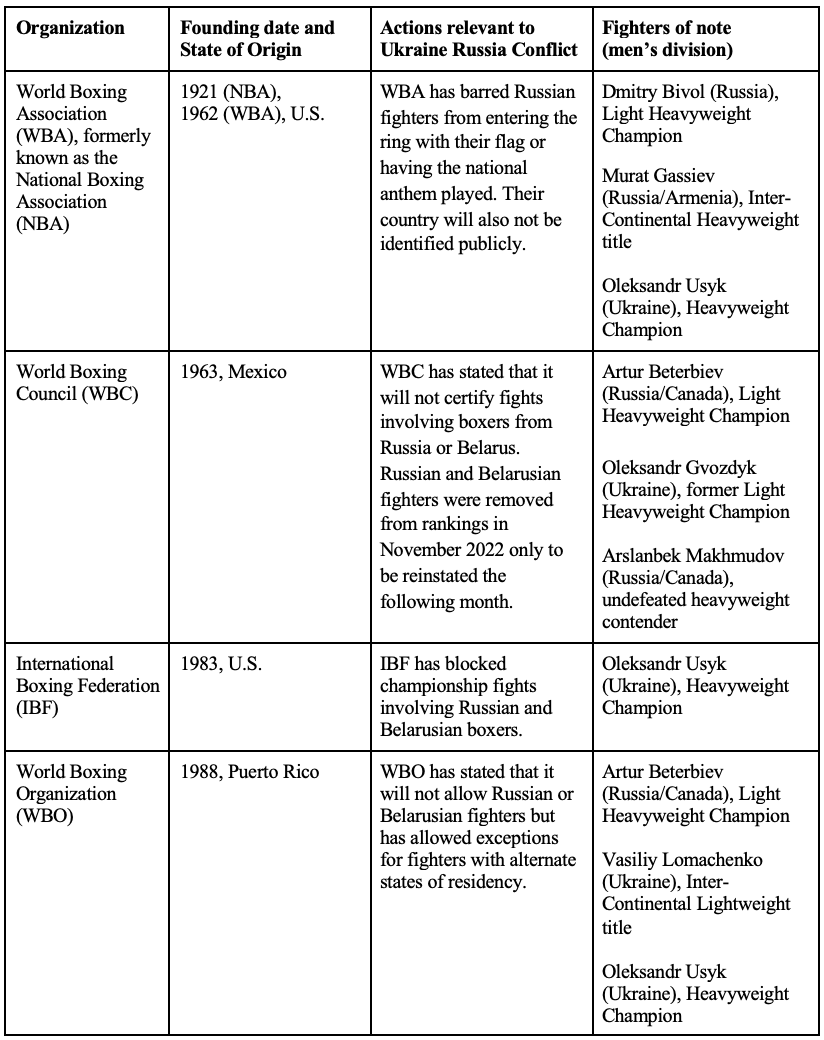 Source: Authors
These policies mark a break from past examples, as private market actors are adopting the stances and methods typically undertaken by states and formal international regulatory regimes. A new paradigm of international competition is thus emerging in combat sports, where nationalist politics and policies become modes of market sanction against non-state actors as if they were actually states (i.e., "We must sanction the 'enemy'") and where the rhetoric of armed conflict becomes the register of promotional advertisements, conflating individual unarmed sporting combat with war (i.e., A brave national hero is fighting for their country in the ring, just as troops are fighting on the battlefield). This has blurred the boundary lines between athletes and their states, with some standing in as heroes, others being rejected as villains, and a few shifting their identities altogether.
Case Study: Artur Beterbiev
Perhaps the most interesting case has been of a Russian national taking the somewhat-extraordinary step of not only competing under a different flag, but formally changing their citizenship after the Ukraine-Russian conflict broke out. Artur Beterbiev is a native of Khasavyurt, in the Russian province of Dagestan, and represented Russia in international amateur competitions (including the 2008 Olympic games in Beijing) before turning professional in 2013. Now training primarily in Montreal, Quebec, he has fought 19 times professionally with 19 knockout victories and has captured three major championship titles: the WBC, the IBF, and most recently the WBO light-heavyweight belts.[23] Yet despite locating in Canada for a decade, as recently as his 17th pro bout on December 17, 2021 with Marcus Browne, which took place at the Bell Centre Arena in Montreal, Beterbiev was announced in the ring as fighting out of his hometown in Russia and merely residing and training in Quebec.[24]
By March 1, 2022, the WBC, WBO, and IBF had all announced their refusal to certify any championship bouts featuring Russian athletes, following an earlier announcement by the WBA. This left Beterbiev in limbo. But by June 18, he was fighting for a new belt, the aforementioned WBO light-heavyweight championship, then held by American Joe Smith, Jr. In the Hulu Theatre arena in New York City, he was instead announced as fighting out of Montreal, Canada. Top Rank and ESPN displayed the Canadian flag over his televised fighter profile. It was later confirmed that he had applied for and been granted Canadian citizenship while quietly retaining his Russian citizenship. Within six months, Beterbiev had gone from a Russian athlete competing abroad in North America to a North American athlete sporting the Canadian flag in his bouts. Beterbiev is now listed and marketed as a Canadian on Top Rank's website, complete with Canada's maple leaf flag in his profile. Where other fighter profiles list their birthplace, his is absent, listing only his "residence" in Montreal.[25]
So far, Beterbiev's maneuvers appear to be working in his favor. The Russian government has appeared to ignore his reorientation of citizenship, and he has been allowed to compete for championships in the West. Several circumstances appear to align in his favor, though each is impossible for most other Russian athletes to replicate. His residency in Canada places him in a state that is friendly to Ukraine. His head coach and trainer, Marc Ramsay, is a Canadian, unlike many other Russian athletes who train under Russian coaches and have less distance between their nationality and craft.
Beterbiev is considered one of the top two athletes in his weight class in the world (according to The Ring magazine[26]) and his head promoter, Bob Arum of Top Rank, considers him an attractive commodity, having predicted Beterbiev to deliver "the fight of the year" in 2022.[27] The combination of established residency, trainer nationality, and athletic accomplishment have protected the boxer from sanction. Beterbiev has also managed to navigate Russian politics to avoid repercussions from the state. Even prior to the outbreak of war, he has taken strides to appear apolitical in interviews with Western media while also maintaining friendly relationships with key figures. The following is an excerpt from an interview with Beterbiev by journalist Donald McRae, in which McRae asked about Beterbiev's past connections to Chechen dictator Ramzan Kadyrov:
"You know, I don't want to talk about these things."
Is he still close to Kadyrov?
"Can we not talk about this?" …
Why doesn't he want to talk about Kadyrov?
"Because I'm a sportsman and I'm preparing for a fight," Beterbiev says.
"I'm not a politician. Why should I answer any politician questions?"[28]
Beterbiev seems to be a case of his promoter, Top Rank, looking to have it both ways: publicly presenting anti-Russian and pro-Ukrainian nationalist sentiment on Lomachenko's behalf, while retaining one of their rising Russian stars in Beterbiev. It remains to be seen if other fighters and promotions follow suit of similarly-creative solutions to the paradox of an ingrained nationalistic promotional model and countervailing market incentives.
Fighters as Symbols
Dmitry Bivol of Russia has held the WBA Light Heavyweight championship title since 2017. He has been able to fight twice since the onset of the war, as WBA has since decided to allow Russian fighters to compete. He cannot, however, fight under the Russian flag, hear the anthem played, or even be announced as being Russian. Bivol, who has spoken against the war, must now fight devoid of national ties. Bivol has even sought a match with fellow Russian national Beterbiev for the WBC light heavyweight title; however, the WBC's 2022 removal of Russian athletes from its rankings means he cannot compete for a title without an exemption—a policy Beterbiev's new Canadian citizenship has allowed him to sidestep.[29]
In an interview with the BBC, former unified champion Wladimir Klitschko made it clear he believes that the WBA has not gone far enough. When asked if Bivol should be disqualified from competing, Klitschko said all Russians and Belarussians should be barred from sport. "It's nothing against the athletes, it's about the politics of Russia," he said. "Every Russian representative in this case needs to be sanctioned because this way we show Russia the world is against this senseless war and there is no good in this war."[30]
In the wake of the Russia-Ukraine conflict, individual fighters have become symbols for international politics. For Russian fighters, this has led to an awkward (if not outright discriminatory) cross-pressure between their careers as private professional athletes and their status as national political symbols, which does not necessarily reflect personally-held political views on the military actions of the Russian state. On the other hand, the circumstances have bestowed high symbolic power on Ukrainian athletes (even retired ones like Klitschko) whose careers benefit and who are granted heightened capacity to exert influence over the careers of Russian fighters. In a larger conflict that has initiated growing concerns for norms of sovereignty and the stability of European security, the long-standing ability of individual athletes to freely compete regardless of their national origin appears to be an additional casualty.
Conclusion
The ongoing conflict between Russia and Ukraine has disrupted the norms of international combat sports, accelerating some trends while reversing others. While international combat sports have been increasingly privatized following the Cold War, and former Soviet athletes have assimilated into the pool of international market-based competition, nationalism has remained a potent advertising tool for fight promoters. With the outbreak of war, nationalism has become a driving force of its own in the policy decisions of private organizations, even when those policies may counter or impede market incentives.
Nationalist rhetoric conflating war fighters and ring fighters has become commonplace, and boycotts and bans have symbolically established Russian and Belarussian fighters as de facto villains, while Ukrainian fighters have been elevated to the status of nationalist heroes by private leagues and promotions that have no financial base in Ukraine. This normative flux has blurred the lines between state and individual athletes, as well as the symbolic borders of international competition, as Russian and Belarussian athletes have taken increasingly extraordinary steps to circumvent boycotts and bans—up to and including changing their citizenship. The long-term implications for the future of international sports are uncertain, but this trend suggests that nationalism in the face of armed conflict has the power to dictate the policies of private promoters and therefore the fortunes of athletes who find themselves "on the wrong side."
[i] Klitschko's brother, Vitali Klitschko, is the two-term mayor of Kyiv, having been reelected in 2020. He is also a former heavyweight boxing champion.
[ii] In UEFA, top teams from Europe's highest tier leagues compete to crown a champion, yet this is done at the club level.
[iii] Some individual sports such as tennis see similar parallel Olympic-Private models, yet the major event traditions hold the governing bodies to longer held rules. Top-ranked tennis athletes in different events are expected to compete, often in knockout-style tournaments. Private combat sports operate in singular matches in which the fights are privately arranged without guarantee that top fighters will appear together.
[iv] Later, Ali was specifically chosen to carry the Olympic torch at the 1996 Atlantic Games as a symbol of the United States moving beyond past policies. See D. Ebesol, "Story behind Muhammad Ali 1996 Olympic torch lighting moment," Sports Illustrated.
[v] This is the sport-specific term for a judo competitor.
[vi] In 2018, Nurmagomedov was the headliner of what is reportedly the UFC's most-viewed and most profitable pay-per-view (ppv) event, UFC 223, which is estimated to have garnered 2.4 million ppv buys, according to the sports betting wing of MGM. See: BetMGM, "Biggest Pay-Per-View Events in UFC History," https://sports.betmgm.com/en/blog/mma/biggest-pay-per-view-events-ufc-bm05/
[vii] In the context of professional boxing and other combat sports, a sanction is effectively a permit that establishes recognized rules and medical standards of competition. Typically, only organizationally-sanctioned fights will appear on an athlete's official record. The inability to get sanctioning, therefore, directly impacts an athlete's ability to compete in official matches, while participating in unsanctioned fights carries both a medical and reputational risk.
[1] Top Rank Boxing, "Loma on Why He Fought for Ukraine: Battle Lines-Lomachenko," October 22, 2022, video, 0:01:50-0:02:03, https://youtu.be/zFrEPzVKVic.
[2] Top Rank Boxing, "Loma on Why He Fought," 0:02:37-0:02:42.
[3] Justin Barasso, "Artem Vakhitov Sours on Glory After Promotion Removes Russian Fighters," Sports Illustrated, July 13, 2022, https://www.si.com/mma/2022/07/13/artem-vakhitov-glory-kickboxing-promotion-removes-russian-fighters-ukraine-mma.
[4] Jake Epstien and John Haltiwanger, "Ex-US General: 'Knockout Blow' Coming in Ukraine-Russia War," Insider, June 21, 2022, https://www.businessinsider.com/former-us-general-knockout-blow-coming-ukraine-russia-war-2022-6.
[5] Carl Clausewitz, On War (London: Penguin, 1968).
[6] Joseph S. Nye, "Public Diplomacy and Soft Power," Annals of the American Academy of Political and Social Science 616, no. 1 (2008): 94–109.
[7] N. J. Cull, "Public Diplomacy: Taxonomies and Histories," Annals of the American Academy of Political Science 616, no. 1 (2008): 31–54.
[8] Yoav Dubinsky, "The Olympic Games and Judo Diplomacy: An Exploratory Discussion on Country Image in Tokyo 2020," Communication & Sport 0, no. 0 (2023), https://doi.org/10.1177/21674795231153663.
[9] United States v. International Boxing Club, 348 U.S. 236 (1955).
[10] Philippe Vonnard, Nicola Sbetti, and Grégory Quin, eds. Beyond Boycotts: Sport During the Cold War in Europe (Berlin/München/Boston: Walter de Gruyter GmbH, 2018).
[11] The New York Times, "Boxers From Former Soviet Union Dominate," September 27, 2000, https:// www.nytimes.com/2000/09/27/olympics/boxers-from-former-soviet-union-dominate.html.
[12] James Dielhenn, "Nikolai Valuev: Biggest-Ever Heavyweight Champ Was 'gentle Giant' Stuck with Ogre Image," Sky Sports, May 7, 2020, https://www.skysports.com/boxing/news/12183/11982903/ nikolai-valuev-biggest-ever-heavyweight-champ-was-gentle-giant-stuck-with-ogre-image.
[13] Kelsey McCarson, "How Explosion of Eastern European Fighters Is Changing the Boxing Landscape," Bleacher Report, March 20, 2014, https://bleacherreport.com/articles/1999101-how-explosion-of-easterneuropean-fighters-is-changing-the-boxing-landscape.
[14] Ryan O'Hara, "Paulie Malignaggi Permanently Removed from Showtime Broadcast Team over Race Comments," The Ring, July 25, 2021, https://www.ringtv.com/606259-paulie-malignaggi-permanentlyremoved-from-showtime-broadcast-team-over-race-comments/.
[15] GLORY Press Office, "GLORY Launches New Series of Events with GLORY Rivals," Glory Kickboxing, April 22, 2022, https://fr.glorykickboxing.com/news/glory-launches-new-series-of-events-with-glory-rivals:8aaa004e-c2f9-423d-9e4c-6d8470224df7.
[16] Mark Kriegel, "How Floyd Mayweather Turned Cinco De Mayo into Boxing's Super Bowl," ESPN, May 5, 2020, https://www.espn.com/boxing/story/_/id/29132482/how-floyd-mayweather-turned-cinco-de-mayo-boxing-super-bowl.
[17] Bad Left Hook, "The Story of Masamori Tokuyama / Chang Soo Hong," December 23, 2009, https:// www.badlefthook.com/2009/12/23/1213722/the-story-of-masamori-tokuyama.
[18] Al-Monitor, "Sudanese Judoka Refuses to Face Israeli Opponent," July 26, 2021, https://www.almonitor.com/originals/2021/07/sudanese-judoka-refuses-face-israeli-opponent.
[19] Greg Bishop, "After Recent Success, Top Rank Wants to Change How Viewers Watch Boxing," Sports Illustrated, August 1, 2017, https://www.si.com/boxing/2017/08/02/top-rank-boxing-agreement-changingsport.
[20] Anthony Stitt, "Top Rank Exec: Boxing Making Huge Comeback With Younger Audiences," Forbes, March 15, 2022, https://www.forbes.com/sites/anthonystitt/2022/03/15/top-rank-exec-boxing-makinghuge-comeback-with-younger-audiences/.
[21] Karim Zidan, "How the UFC Finally Made It to Russia," ESPN, September 14, 2018, https://www. espn.com/mma/story/_/id/24668298/mma-making-sense-complicated-ufc-business-strategy-russia.
[22] WBN, "Dmitry Bivol Warned by WBC, 'No Beterbiev Sanction Due to War'," WBN - World Boxing News (blog), April 19, 2023, https://www.worldboxingnews.net/2023/04/19/dmitry-bivol-wbc-beterbievcanelo-war/.
[23] Donald McRae, "'Do I like Interviews? No': Fighting for Words with the Evasive Artur Beterbiev," The Guardian, January 27, 2023, https://www.theguardian.com/sport/2023/jan/27/do-i-like-interviewsno-fighting-for-words-with-the-evasive-artur-beterbiev.
[24] WBN, "Dmitry Bivol Warned by WBC."
[25] Top Rank Boxing, "Fighters – Top Rank Boxing," accessed April 10, 2023, https://www.toprank.com/ fighters/.
[26] Anson Wainwright, "The Ring Ratings Reviewed: Light Heavyweight," The Ring, September 2022, https://www.ringtv.com/644674-the-ring-ratings-reviewed-light-heavyweight/.
[27] Keith Idec, "Bob Arum: Beterbiev-Smith Will Be Considered 'Fight Of The Year' For 2022," Boxing Scene, June 17, 2022, https://www.boxingscene.com/bob-arum-beterbiev-smith-considered-fight-year-2022--167034.
[28] McRae, "'Do I like Interviews? No'."
[29] Tom Grey, "Dmitry Bivol Addresses Russia WBC Ruling Preventing Artur Beterbiev Clash, Teases Joshua Buatsi Fight," Sporting News, April 17, 2023, https://www.sportingnews.com/us/boxing/news/ dmitry-bivol-next-fight-artur-beterbiev-russia/keg00vjgetlgmgqm6deu5lcv.
[30] Fight Sports, "Klitschko Doesn't Want Bivol To Fight Canelo," March 9, 2022, https://www.fightsports. tv/wladimir-klitschko-doesnt-want-dmitry-bivol-to-fight-canelo/.